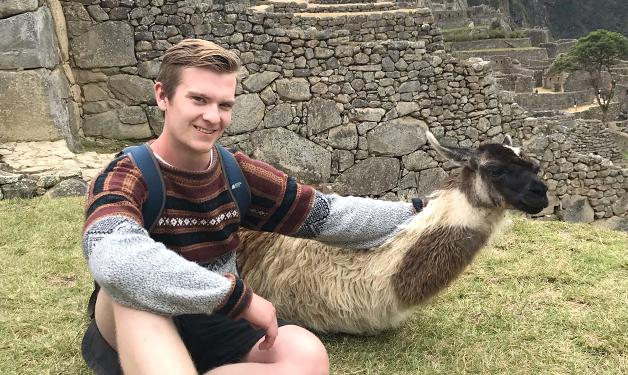 Meet Tom—dedicated to unraveling the mystery of dementia.
Q: What is your role in health research?
A: I work with the Vancouver Stroke Program as a study coordinator. I primarily coordinate the CANARY study, in which we are studying speech and eye movements as early predictors of dementia. I work closely with research participants, helping them to schedule appointments, complete paperwork and administer assessments. I also work closely with a team of health researchers and computer scientists to analyze the data from our study.
Q: What is your research area of interest and what led you to that interest?
A: My research area of interest is dementia and brain health. I was inspired to go into health research by my grandmother. She was a nurse and always encouraged me to work in health care. Unfortunately, she was diagnosed with Alzheimer's disease in 2012 and passed away in December 2019. My grandmother's diagnosis made me want to learn everything I can about the disease. I took the first opportunity I had to contribute to dementia research and have been very happy working in the field since. 
Q: What's the best part about your research job?
A: The best part about my research job is the participants. I have had so many interesting conversations with the study participants, and each day is different and enjoyable because of them. 
Q: What was your first job?
A: I started my first job at the Alberta Children's Hospital when I was 16 years old. I was very lucky to be hired alongside other high school students to work on special projects in the hospital. Our team created a handwashing campaign, audited the electronic medical record system and did room visits around the hospital. It was a great experience and helped spark my interest in health care.
Q: If you could travel anywhere in the world right now, where would you go and why?
A: Japan would be my first choice. During my undergraduate degree, I took a Japanese language class as an elective. I ended up loving the language and completed several more classes. I have not yet used my language skills outside of the classroom, so a trip to Japan would be the perfect opportunity to practice my Japanese. The culture, art and food in Japan would only contribute to the experience!
Q: What's one thing we might be surprised to learn about you? 
A: I was very musical in grade school and was a member of my school's wind orchestra and jazz band. I primarily played the saxophone but I can also play the piano, flute and clarinet. I can sing too and was involved in school choir and glee club. 
Q: What piece of advice would you give your younger self?
A: One piece of advice that I would give my younger self (and present self too!) would be to try to live in the moment. As a university student I would continually try to just get to the end of the semester. I did not enjoy my classes or spending time with friends as much as I could have, as I just wanted the stress of exams and papers to be over. Even now I find myself hoping for the weekend or an upcoming holiday to come sooner instead of trying to enjoy the day for what it is.