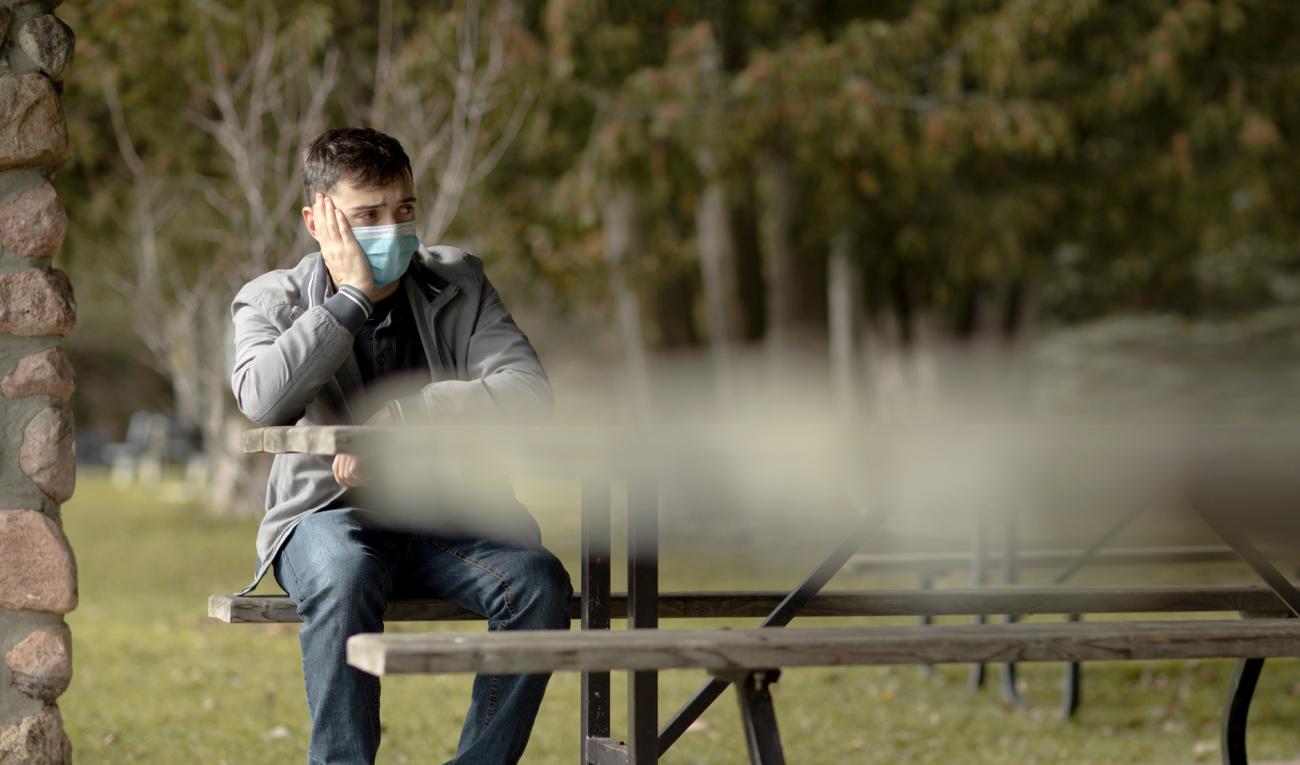 Check in with yourself and others, and consider making these lifestyle changes.
Post-holiday recovery in the midst of a prolonged pandemic can put a strain on our mental well-being. To prevent life pressures and responsibilities from getting the better of your emotions, lend an ear to our expert and Vancouver Coastal Health Research Institute researcher, Dr. Kamyar Keramatian, who explains why many of us might be feeling blue, and shares strategies to wrangle in a plummeting mood.
Q: Bills, returning to work routines and news about COVID-19 can feel overwhelming. How can I manage post-holiday stress and anxiety? 
A: One of the things people can consider during this time is to monitor how you are feeling. Are you more irritable than usual? More stressed? Are you not getting enough sleep or not enjoying the things that you used to? If so, the next step is to understand where the stress is coming from, such as too many tasks and not enough time to do them all. 
One approach to manage stress is to prioritize the more important tasks and be okay to ask for help and support from others. For example, within families, individual family members may take on specific roles, such as cooking, shopping, taking kids to school, etc. However, these roles are not rigid and can change as workloads change so that no one person feels overwhelmed. Children and teenagers can help out with cooking duties, and other family members or trusted friends may be able to fulfil child minding and transportation duties. A lot of kids and teens want responsibility and to lend a hand. Giving them tasks to perform can also help prepare them to be more independent. There are ways to make tasks fun, too, such as offering an allowance or special reward for completing them.
Q: Darker, colder, rainier days can feel depressing. Why is that and what approaches can I use to boost low moods during the winter?
A: We know that some people are especially sensitive to a lack of sufficient sunlight exposure, particularly in the fall and winter. This can cause what is known as seasonal affective disorder (SAD), which is characterized by low mood, sluggishness and issues with sleeping. SAD affects approximately two to three per cent of Canadian adults over their lifetime — a less severe version affects an additional 15 per cent. Speak to your doctor if you are concerned that you may have SAD. If your symptoms are severe enough, your doctor may recommend treatments such as light therapy.
A general mood-boosting rule of thumb is to try to stay connected to friends and family. We know that social isolation can negatively affect mood. So, in as safe a manner as possible given the recommended precautions to stop the spread of COVID-19, try to remain connected with friends and family. 
Also, try to get regular exercise. Just 30 minutes of jogging, hiking, swimming or skiing that gets your heart rate up releases dopamine and other neurotransmitters, such as serotonin, involved in improving our mood and energy. 
Q: Is it okay to drink when you are feeling stressed?
A: Alcohol is a depressive substance that can trigger a depressive mood; so, make sure to limit your consumption. It can also reduce our body's ability to fall into a state of deep, rejuvenating sleep. Even though it may seem easier to fall asleep, drinking may not allow your body to get the rest it needs. 
Being well-rested is one way to support a healthy state of mind. Try monitoring how much sleep you get — along with the quality of that sleep — as when we get busier, we tend to stay up late and wake up early. Make sure to schedule in enough time to wind down for the evening and sleep for the recommended seven to eight hours per night.
Q: The pandemic feels never-ending. How can I better cope with the uncertainty of living in this stressful time?
A: We were all hoping that the COVID-19 pandemic would be over by now. However, we are at least in a better situation because of the vaccines. Yet, the uncertainty of what will come next can cause anxiety. Even such things as trying to get as much information as you can about the pandemic can cause stress and anxiety. While it is good to stay apprised of recent news and events, limit yourself to a specific amount of time per day, and give yourself the option to not read any news about COVID-19 some days of the week. Fill your excess time doing activities that you enjoy, such as going for a walk, watching a movie, listening to music or talking with your family and friends. 
Try to stay connected and avoid being isolated. If your loved ones live in distant regions, use technology, such as video calls or regular phone calls, to keep in touch.
If you work from home, make sure to maintain your regular work schedule to avoid taking away from your much-needed leisure time.
Q: Are there apps and other resources that can help me manage my mood?
A: MindShift is an app that I recommend to my patients and clients to help them manage anxiety or stress. It can help people identify negative thoughts that may be affecting their mood, and offers stress management strategies. Moodgym is another interactive app that teaches skills that can be used to prevent and manage anxiety or depression.
The Anxiety Canada website also has a lot of good tips and resources for managing anxiety.