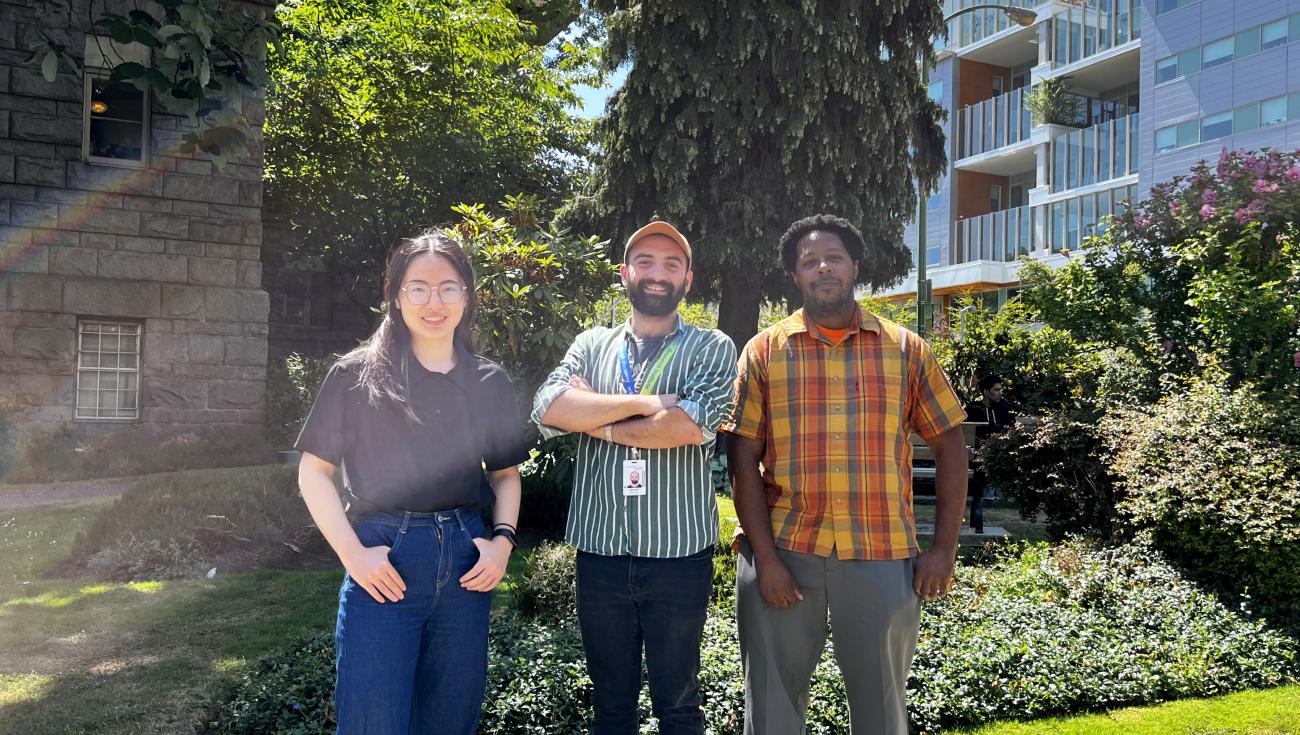 Committee leaders Xueqing Zhou, Umut Berkay Altintas and Tyrone Scales pave the way for a thriving VCHRI trainee community.
Nestled within the Vancouver Coastal Health Research Institute (VCHRI), a vibrant community of emerging scientists is propelling scientific advancements in British Columbia and beyond. The VCHRI Trainee Committee emerges as a pivotal platform to support the growth of future health researchers. 
Trainees from VCHRI's 14 centres and programs are invited to join us for an illuminating VCHRI Trainee Committee Open House on October 5. Leading up to the open house event, Xueqing Zhou, Umut Berkay Altintas and Tyrone Scales explain their roles on the leadership team and discuss the importance of having an interdisciplinary space for trainees to connect with their peers professionally, academically and socially.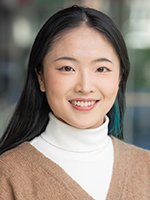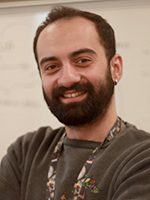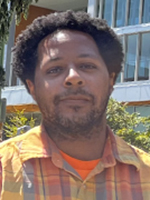 Q: What is your research focus? What motivated you to pursue a career in health research?
Xueqing: My journey into health research was sparked by some incredible encounters during my time volunteering at Neuromotion and the Physical Activity Research Center at ICORD. I am interested in the intersection of rehabilitation, neurophysiology and neural signal processing, particularly related to the human urogenital system post spinal cord injury. My master's thesis focused on characterizing pelvic floor muscle activity during exoskeleton-assisted walking in people dealing with motor-complete spinal cord injury. 
Berkay: I have always been fascinated by how genome functions correspond to different cellular environments. Dr. Nathan Lack, my supervisor for both my master's and doctoral studies, provided a nurturing environment that encouraged me to explore this intellectual passion. I am currently working on uncovering the role of chromatin architecture in androgen-receptor mediated gene expression regulation via cis-regulatory networks. 
Tyrone: While pursuing my Master of Social Work, I had the opportunity to work as a research assistant and coordinator at Johns Hopkins University, where I learned how health policy trials are developed and how different academic disciplines affect research design. I have many relatives and friends who live with disabilities and have experienced systemic barriers as a result, which is why I am focused on disability policy development and implementation. I am especially drawn to participatory methods and leveraging patient-oriented research to steer better disability policy outcomes.
Q: What is your role on the 2023/2024 VCHRI trainee committee? 
Xueqing: I am the Professional Development Sub-Committee Lead. My focus is on organizing a range of educational workshops throughout the year. These professional development sessions are a great way to acquire new skills, foster career progression and learn from subject matter experts spanning diverse fields. 
Berkay: As the Research Series Sub-Committee Lead, I am responsible for organizing research sessions featuring lay talks by grad students from different VCHRI research centers, developing cross-cutting themes, assembling a lineup of dynamic presenters, and sparking the opportunities for science communication and collaboration among VCHRI trainee community.
Tyrone: My position is Social Sub-Committee Lead and I am dedicated to planning intergroup social events for VCHRI trainees to spend time together in a fun and casual setting. This role provides me with a great opportunity to become more knowledgeable about planning inclusive events, including budgeting, scheduling and promoting.
Q: Why were you interested in joining the leadership team? 
Xueqing: For the past two years I have contributed to the VCHRI Trainee Committee as an ICORD representative and have witnessed the team's growth firsthand. This experience, coupled with my role as Community Outreach Lead on the ICORD Trainee Committee, has nurtured my leadership skills. I am excited to embrace greater responsibilities and work with new people on this journey!
Berkay: As an extraverted graduate student, I thrive on networking and peer learning. Joining the VCHRI Trainee Committee is a great way to engage more deeply with the scientific community. This opportunity will refine my leadership abilities, teach me organizational skills and immerse me in exciting research led by my peers.
Tyrone: While my involvement in the coordination of the Research Rehab Program's monthly lab meetings has allowed me to connect with my peers in the program, I knew that joining the VCHRI Trainee Committee would be a great way to reach even more trainees across VCHRI's other programs and centres. Many of us have not met in person due to the COVID-19 pandemic, so I am looking forward to creating fun opportunities for more social interaction.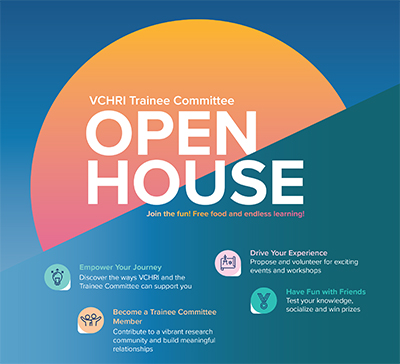 Q: Why is it important for trainees from across VCHRI to have a space to collaborate?
Xueqing: In a dynamic research landscape, knowing what others are up to becomes key. It is impossible to know what is going on in the research community if we only focus on ourselves and keep our doors closed. The first step of collaboration is having an opportunity to see and understand each other's work, which is where the committee steps in to bridge this gap.
Berkay: Science cannot be done in isolation! Each researcher is an expert in their field, but may be struggling to solve a problem within their research that could be aided by someone in another field. Fostering interdisciplinary connections sparks knowledge exchange, inspiring new scientific breakthroughs. 
Tyrone: All research is interdisciplinary. Professional collaboration and social bonding with people who have different perspectives and backgrounds accelerates progress and leaves a resounding impact on the broader community.
Q: What are the main challenges faced by trainees in the research community, and how can the trainee committee address these challenges?
Xueqing: Graduate school can be stressful, but it can be helpful to talk to people who are going through similar challenges with work-life balance or imposter syndrome. The committee fosters a supportive community, encouraging trainees to take breaks from their busy schedule and nurturing connections through engaging activities.
Berkay: Trainees often remain unaware of each other's work due to scattered workstations and limited channels for communication. The committee's supportive network fills this void by establishing a dedicated space for interaction.
Tyrone: As an international student, I know that managing time zones and commitments can be daunting. While the committee may not be able to address all the challenges faced by trainees, it serves as a trusted resource, guiding trainees towards solutions and providing a supportive network that reminds them they are not navigating the journey alone.