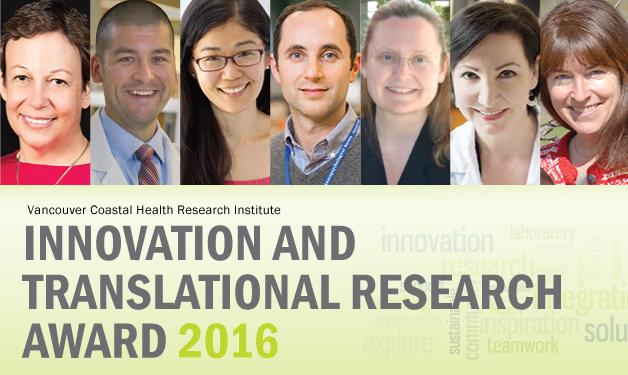 Congratulations to the 2016 Innovation and Translational Research Award recipients!
Vancouver Coastal Health Research Institute (VCHRI) plays a role in improving patient care in B.C. and around the world with the annual VCHRI Innovation and Translational Research Awards. The Awards are intended to help put knowledge into practice. This year, we are again proud to support innovative research that will implement research outcomes and turn discoveries into opportunities for better health and improved therapies.
Congratulations to the 2016 Innovation and Translational Research Awards recipients:
VCHRI internal grants and awards program, which includes the Innovation and Translational Research Awards, is an important tool for fostering and developing research activity at VCH.  VCHRI and its funding partners address emerging needs and opportunities identified by researchers across VCH by supporting research projects. The 2016 Innovation and Translational Research awards are supported by VGH & UBC Hospital Foundation, Vancouver Acute (VA) Medical, Dental and Allied Staff Association and VCHRI. 
---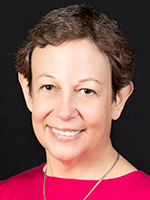 Attention-deficit hyperactivity disorder (ADHD) is a neurodevelopmental disorder that can make it difficult for those affected to hold multi-step instructions in mind, pay attention, sit still, or not act impulsively. Current treatment involves stimulant medications given at a dose that parents and/or teachers find improves the child's behaviour (that is, reduces the hyperactivity and impulsivity). Dr. Adele Diamond worries that that dose may be too high to help the child's cognitive problems (such as memory or attention) and may even exacerbate those problems by causing the child to be in a bit of a daze.
 "We hypothesize that the stimulant dose for controlling hyperactivity in patients with ADHD is too high for aiding cognition," says Dr. Diamond. At medium to high doses stimulants act on the striatum of the brain to improve behaviour.  At low doses, however, the same stimulants act on prefrontal cortex to improve cognition. Dr. Diamond theorizes that by halving the stimulant dosage, the medication will be more beneficial for cognition: "Most patients with ADHD on stimulants are taking a dose targeting behavioural dysregulation instead of using cognitive tests to assess effectiveness. We predict that patients will perform better on attention, working memory, reading and math, when on half their dose."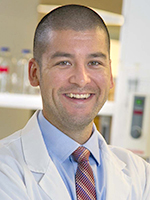 The respiratory mucosal immune system is our first line of defense against allergens and air pollution. Epithelial cells, the cells that line our breathing tubes, are an important part of our respiratory mucosal immune system. They produce molecules that attract and change the behavior of our immune cells. A greater understanding of this process is needed in order to discover new ways to treat chronic airway diseases such as asthma and COPD. Dr. Jeremy Hirota, an expert in understanding how the air we breathe impacts our respiratory mucosal immune system, hopes to develop tools that will help in the discovery of new drugs for asthma and COPD. 
Using 3D tissue printing technologies pioneered by Aspect Biosystems, a local UBC spinoff company, Dr. Hirota will create a model to help propel lung research forward. "A 3D printed human airway with epithelial cells and immune cells will be of value for drug discovery and basic research studying respiratory mucosal immune systems," he says. The 3D printed human airway model will be tested to see if it behaves similarly to real life exposures to allergens and air pollution. Once perfected, it will be used to test new asthma and COPD drug candidates.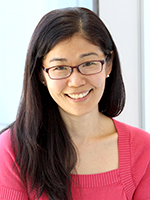 Poor sleep quality is associated with increased risk of cognitive impairment and dementia, yet more than half of adults over 65 report that they have problems getting a good night's sleep. It's been shown that sleep could be improved through focusing on sleep hygiene, physical activity and bright light therapy (BLT). However, there are key barriers to improving sleep quality among older adults. Dr. Teresa Liu-Ambrose believes that a community program will reduce these barriers, improve sleep and increase cognitive ability.
"It is my experience that many older adults, while suffering from poor sleep quality, do not fully appreciate the health consequences of chronic short duration sleep and frequent awakenings," says Dr. Liu-Ambrose. With assistance from Dr. Glenn Landry, CIHR Postdoctoral Fellow who will be driving the research, she will combine the latest evidence in sleep and cognitive health and wearable technology to deliver and assess a community-based intervention aimed at older individuals who suffer from poor sleep quality and mild cognitive impairment.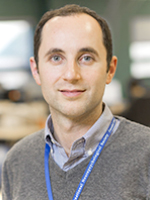 Mild traumatic brain injuries (TBI), also known as concussions, are common in Canada, affecting 600 of every 100,000 Canadians each year. They are characterized by cognitive impairment, balance problems and other symptoms such as headache, sleep disturbance, emotional lability and poor concentration. Typically, the symptoms will resolve themselves, but at least 15% of patients continue to have ongoing problems that negatively impact their quality of life.
"The bulk of evidence strongly favors that complete rest for more than 48 hours is not effective and might even prolong recovery," says Dr. Noah Silverberg. "Yet, that is the treatment most often prescribed by family physicians." Dr. Silverberg's pilot study will examine whether an evidence-based guideline for activity resumption for family physicians in B.C. is a feasible method of delivering evidence-based intervention to individuals suffering from TBI.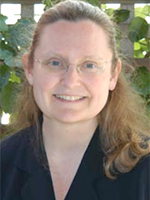 Pelvic organ prolapse (POP) will affect half of the world's female population at some point during their lifetime. An often painful condition, it can lead to problems such as urinary and fecal incontinence, constipation or bleeding. POP can be very hard to diagnose and treat because the effects of how gravity, patient position, and posture interact are difficult to see.
Dr. Stothers believes that existing Open MRI technology can help increase the quality of life for women with POP by allowing the anatomy to be viewed while the patient changes position. "3D reconstruction will make it possible for the effects of being upright or seated on the pelvic anatomy to be quantified," says Dr. Stothers. "This will enable clinicians to visualize the interplay of the pelvic floor structures in the context of disease for the first time and hence greatly improve treatment accuracy in women. And, other disorders, like spinal cord injury (SCI), also affect the muscular supports in the pelvis, and we will see for the first time how positioning, such as seating in women with neurogenic conditions, are also affected."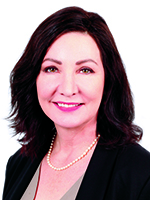 Traumatic Brain Injury (TBI) is a leading worldwide cause of death and disability for people under 40 years of age with potentially serious consequences for both youth and the elderly. Yet, there are major concerns about the ability of existing experimental TBI models to replicate the pathology of human TBI and better guide development of diagnostic tests and therapeutic approaches. Through a very interdisciplinary collaboration across neuroscience and engineering, Dr. Cheryl Wellington and her research partner, Dr. Peter Cripton, have invented a solution that is rapidly generating worldwide interest.
"We have developed an innovative surgery-free, reproducible impact TBI model called CHIMERA (Closed Head Impact Model of Engineered Rotational Acceleration) that generates diffuse axonal injury, motor impairment, white matter inflammation, and tau phosphorylation," says Dr. Wellington. A breakthrough in CHIMERA, unavailable in any other TBI model, is its integrated analysis of head motion after impact, from which biomechanical data can be recorded, enabling accurate reproduction of the forces generated in human TBI cases. The precision and reliability of CHIMERA and the ability to relate biomechanics with pathology is a tremendous advance. This award will allow Drs. Wellington and Cripton to expand the repertoire of CHIMERA and take the first steps toward commercialization.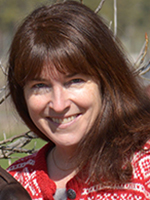 One in 10 adults in B.C. is living with osteoarthritis (OA). By 2040, as the population ages, that number could rise to 1 in 4. Medications and therapies aren't always effective, so about 100,000 Canadians a year elect to undergo total joint replacement (TJR) of the hip or knee. However, often some pain and disability persist. Dr. Westby believes that the lack of standardized, high-quality rehabilitation care could be partially to blame.
"Rehabilitation aimed at preparing a person before and enhancing recovery after TJR is effective when prescribed appropriately," says Dr. Westby. "However, TJR rehabilitation care varies greatly within B.C. and across Canada." Her study will apply a set of quality indicators (QIs) to address care gaps and define minimum acceptable standards of care. The QIs will be transformed into patient and family-friendly tools and tested for their ability to increase the rate of effective rehabilitation and patient satisfaction, while decreasing health care costs.