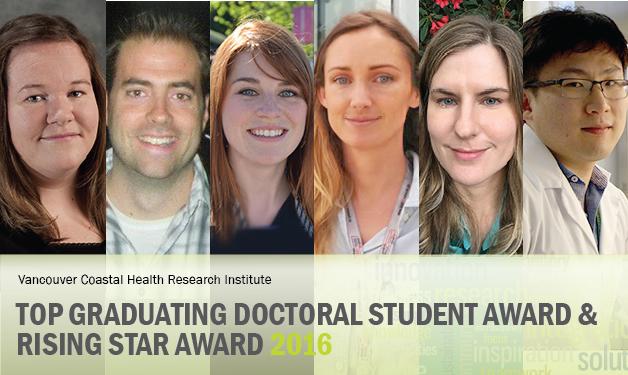 Congratulations to this year's Top Graduating Doctoral Student and Rising Star Award Recipients!
Vancouver Coastal Health Research Institute (VCHRI) is proud to reveal the recipients of the 2016 Top Graduating Doctoral Student Award and the Rising Star Awards. The awards recognize outstanding VCHRI research trainees who serve as role models by demonstrating research excellence, foster research understanding through communication, and contribute to the VCHRI research environment in a meaningful way.
The 2016 Top Graduating Doctoral Student Award recipient is Peggy Assinck.
The 2016 Rising Star Award recipients are:
The awards will help fund the trainees' travel to international conferences where they will share their research findings with the research community. Conference participation is critical to the development of a research career, and we are proud to support them in this endeavor. Congratulations to the 2016 recipients!
---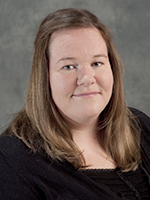 There is no cure for spinal cord injury (SCI), and treatment is limited to managing the symptoms of the 42,000 Canadians who are affected by SCI. 2015 Rising Star Award recipient Peggy Assinck has been working on a new strategy that might provide an answer. She is interested in myelination (the insulating component around nerves) and investigating how important remyelination is after SCI. Cell transplantation, which can target remyelination, recently emerged as a potential treatment for SCI and Peggy has been involved it's pre-clinical testing. In addition, she is interested in better understanding the natural repair mechanisms that attempt to contribute to remyelination after injury and whether we can boost this natural response as a potential treatment for SCI.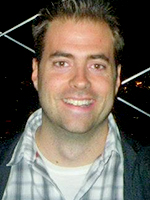 Greg Duncan is known for quickly mastering complex lab skills, coming up with creative solutions to difficult problems and creating new collaborations with other research labs. But it's his willingness to help those following behind that makes him stand out from his peers. Greg goes out of his way to ensure that new trainees find their footing and he works with StemCell Talks to engage high school students in the sciences with his infectious enthusiasm.
"The ability to take advantage of new techniques and tools to truly answer these long-standing questions in the field keeps me motivated," says Greg. "To me, science is all about pushing boundaries and trying to do new things, which tends to keep things fresh and interesting, but also challenging. Seeing first-hand the effect of the disease I study, multiple sclerosis, on a member of my family provides even more motivation for my research."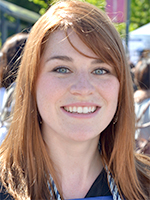 Jennifer Ferris has a remarkable knack for breaking down complex science concepts to make them understandable and exciting for a lay audience. A frequent speaker at science lectures aimed at the public, she is also one of the brains behind the YouTube channel Sixty Second Science. Jennifer's passion for science is matched by her desire to help others. Through her work as president of UBC Psi Chi, she has created change to improve the lives of her fellow psychology students, lead outreach to high school students and workshops for students and educators to create a sense of excitement about science.
Jennifer finds it easy to stay motivated, even when life gets hectic. "Reminding myself of the big picture questions that drive my interest in research keeps me moving forward," she says. "Its endlessly interesting to me that the brain can change and adapt in response to injury, which means that recovery from a brain injury is possible!"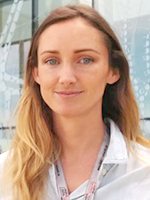 Kyla McKay brings dedication and a sense of adventure to her study of the epidemiology and impact of mental health in multiple sclerosis (MS). While her own research is gaining attention, Kyla goes out of her way to support others around her. Whether she's finding ways for undergrads to take part in her projects to get them that all-important first publication for their CV, or volunteering her time to ensure that new knowledge is accessible, Kyla is a researcher who's making an impact in several ways. 
"Psychiatric conditions are underdiagnosed and undertreated in the MS population, and there is a genuine need to better understand them," says Kyla. "I'm continually motivated by the importance of this issue to those affected by it. Ultimately, I hope my research can be used to advocate for better mental health services for people living with MS."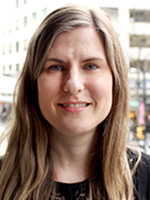 Sue Peters has found academic success with publications and awards, largely due to her strong leadership skills and the active role she takes in the research community. Her experience as a physical therapist has allowed her to target her stroke recovery research to best meet the needs of clinical care. She is a mentor to more junior researchers and a valuable team member.
Sue is inspired by Ralph Waldo Emerson's quote: "Do not go where the path may lead. Go instead where there is no path and leave a trail." -- "To me, this is essentially what a PhD is," she says. "It's the creative and energetic exploration of something new, and if it is done well, you will leave a path behind you that others can follow. It's an epic journey to an unknown destination, but it's worth every minute."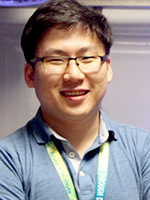 Min Hyung Ryu's leadership and communications skills have earned him respect and admiration for the results he's able to achieve. Whether he's recruiting, motivating and engaging with participants for a COPD research study or creating opportunities for himself and his peers to present their work to the research community, Min serves as a role model and valuable member on any research team. 
"The best advice I ever got was: 'never let logic stop you from doing an experiment' from Drs. Newman Stephens and Andrew Halayko," says Min. "Often in Science and life, we hesitate to carry out some experiments because we have a logical expectation of the outcome without actually doing the experiment or making the change in life. So whenever I get stuck on something in the lab or in life, I let myself experiment with the many possible outcomes and see what really pans out."