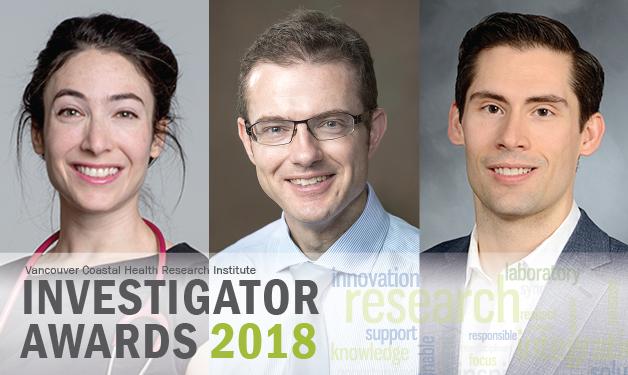 Congratulations to this year's recipients of the Vancouver Coastal Health Research Institute Investigator Awards.
Each year, Vancouver Coastal Health Research Institute (VCHRI) promotes excellence in health research through the annual VCHRI Investigator Awards. These awards recognize outstanding health investigators and support their research efforts through peer-reviewed salary support awards. The awards provide an opportunity for investigators to reduce their clinical practice commitments and build their research capacity to expand the possibilities of improving health research. They are supported by VGH & UBC Hospital Foundation. 
The 2018 VCHRI Investigator Awards recipients are:  
Dr. Thalia Field, assistant professor, Division of Neurology, Department of Medicine, Faculty of Medicine, UBC; Stroke Neurologist and Fellowship Program Director, Vancouver Stroke Program, Vancouver General Hospital and Djavad Mowafaghian Centre for Brain Health
Dr. Nathaniel Hawkins, clinical assistant professor, Division of Cardiology, Department of Medicine, Faculty of Medicine, UBC
Dr. Ryan Flannigan, assistant professor, Department of Urologic Sciences, Faculty of Medicine, UBC
---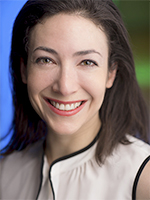 Cerebral venous thrombosis (CVT) is a rare cause of stroke that mainly affects younger women and results in death or disability in 15 per cent and long-term impairment of quality of life in up to 60 per cent. Consensus-based standard of care is anticoagulation, usually with heparin and transition to dose-adjusted warfarin. Direct oral anticoagulants (DOACs) may provide an improved antithrombotic strategy for CVT due to superior safety (lower risk of intracranial hemorrhage) and decrease length of hospital stay. 
"In anticipation of conducting a Phase III trial comparing DOAC to standard of care for CVT, we will conduct a pilot feasibility study. During this phase, 50 patients at 17 sites across Canada will be randomized 1:1 to rivaroxaban or standard care. We will engage patients with peer support, knowledge sharing and feedback to clarify the most meaningful patient outcomes," says Dr. Thalia Field. 
"In addition to determining whether DOACs are a better choice for treating CVT, this is an opportunity to learn more about the prognosis of this rare disease and to connect survivors with peer support opportunities and feedback about patient-centered outcomes."
---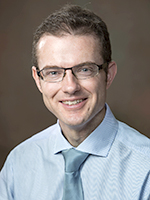 Atrial fibrillation (AF) is the most common heart rhythm disorder, affecting 350,000 Canadians and substantially increasing their risk of stroke. The risk of stroke in AF is reduced by anticoagulants. Despite having evidence-based treatments, many patients with AF do not receive appropriate anticoagulants, emergency care, investigations and procedures.
"This interprovincial program will comprehensively assess AF across British Columbia and Alberta using 17 linked administrative datasets. We will define the burden of disease, healthcare utilization, use of anticoagulants, access to and inequalities in care," explains Dr. Nathaniel Hawkins.  "Our focus is on the outcomes most important to patients— stroke and bleeding. One of our key goals is to develop a tool to guide treatment decisions and help inform patients of the best treatment strategies."
"This project will create one of the largest, most contemporary, and detailed population based datasets for AF outcomes research. Our research will guide health system improvement in British Columbia and Alberta." 
---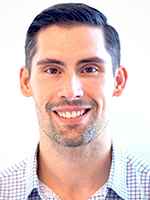 "Non-obstructive azoospermia (NOA) is the most severe form of male infertility. It affects 15 per cent of infertile males, yet we know little about its causes. In NOA there is a defect in spermatogenesis resulting in no identifiable sperm production," says Dr. Ryan Flannigan. "By closely examining the tubules that house the stem cells and germ cells that become sperm, we know most of these tubules are very thin and collapsed because they lack sperm and germ cells. However, in using the operating microscope we find rare niches of tubules that are thicker and healthier, containing germ cells. We can excise these and look for viable sperm. In about 50 per cent of cases we are successful but we still don't understand the underlying science that allows sperm production in these niches." 
The goal of this project is to investigate the cell-specific genetic regulation in both niches of successful spermatogenesis and regions of defective spermatogenesis in NOA. "We will compare samples between men with NOA as well as against a fertile control group," explains Flannigan. "Using novel single-cell sequencing in these experiments will allow us to examine and compare the genetic regulation in individual cells and overcome previous limitations in assessing testicular tissue that has many cell types, traditionally making these comparisons difficult."
"We hope to identify the genetic mechanisms that facilitate successful spermatogenesis in these rare testicular niches among infertile men with NOA, to reveal therapeutic targets in our efforts to overcome infertility."