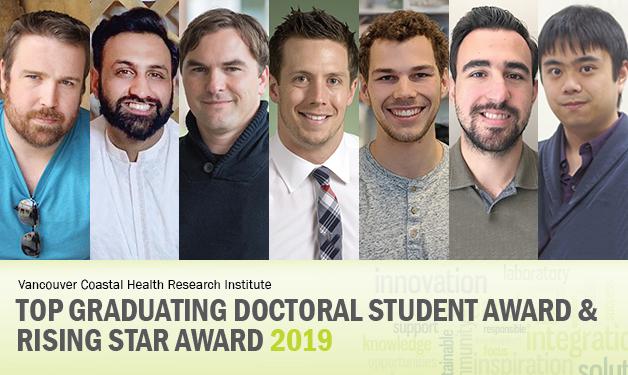 Congratulations to the 2019 Top Doctoral Students and Rising Star Award recipients!
Vancouver Coastal Health Research Institute (VCHRI) is proud to support tomorrow's research leaders with the Top Graduating Doctoral Student Award and the Rising Star Award. These awards recognize outstanding efforts by VCHRI research trainees in research excellence, service as role models, and other contributions to the VCH research community. 
The 2019 Top Graduating Doctoral Student award recipients are:  
The 2019 Rising Star award recipients are:
---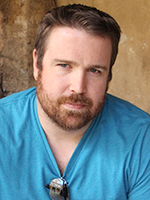 'Immense promise and potential' and 'emerging leader' are just some of the many complimentary phrases Ryan's supervisors and mentors use to describe him. On top of his stellar academic performance, Ryan has a slew of awards and journal articles—including upwards of 20 peer-reviewed publications—to show for all his hard work as a research trainee. 
Ryan's passion for science and his desire to make a difference in the lives of older adults will only fuel his potential and drive as he continues his promising career in research. With an increasingly aging population, research into senior's health is more relevant than ever.
"It is my hope that my research will help improve the physical and cognitive health of older Canadians," says Ryan. "In addition, I hope to help older adults maintain their cognitive health through targeted lifestyle strategies which can reduce dementia risk or at least delay its onset."
A seasoned public speaker and crowd-pleaser, Raza is well-known in the spinal cord injury (SCI) research community, having been asked by peers to emcee at multiple research-related events, including the ICORD Trainee Symposium and the Spinal Chord Gala. Raza's enthusiasm for science is contagious, inspiring those around him, both in and out of the lab. He is a PhD candidate and student mentor with the Human Locomotion Lab at ICORD, where he helps improve the health and well-being of people with SCI. 
In his research, Raza is making use of new advancements in digital health to further his study of how sensorimotor deficits that develop after SCI affect walking ability.
"One of the most interesting aspects of my research is the use of virtual reality (VR)," says Raza. "In my project, participants wear a VR headset while walking in a virtual environment. It's amazing to observe how immersive the VR environment feels for the participants. I am excited to see how VR will be used in the future to improve neurorehabilitation research."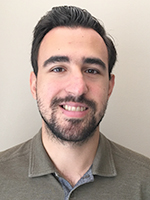 Hailed by his peers and supervisors as a collaborative team player, Angelo is always willing to lend a hand. His dedication to helping others goes beyond his studies and research commitments: Angelo has volunteered his time with local wellness organizations, the Canucks Autism Network and the CHANGEpain Clinic.
With a strong work ethic and a thirst for knowledge, Angelo has passionately pursued his research on the biomechanics of the lunge—lower-limb movement where the person steps across their body, descends to a maximal depth and then returns to the starting position—in a pathomechanical hip condition called femoroacetabular impingement. 
"I hope that my research will impact how future biomechanical studies will examine the effect of femoroacetabular impingement on performance of dynamic and functional movements so that we gain a better understanding of why this condition has a high prevalence in the athletic population," says Angelo. "I'm optimistic that results from this study will help inform clinicians when prescribing exercises for rehabilitation and improving sport performance."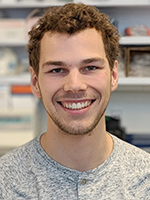 Cameron is lauded by his mentors as a naturally gifted scientist with enormous potential in the research arena. Known for his technical expertise, Cameron quickly masters complex techniques and then teaches them to others, always willing to share his knowledge and collaborate with his peers.
A highly motivated student, he utilizes every opportunity to learn and grow. Cameron takes full advantage of all the scientific resources available to him at the Vancouver Prostate Centre where he's researching the capabilities of DNA taken from a simple blood test to inform therapy decisions when it comes to fighting prostate cancer tumors.
"Results of this research may provide another tool for clinicians to use to decide whether docetaxel chemotherapy, the standard of care for men with metastatic prostate cancer, is an appropriate choice for their prostate cancer patients," says Cameron.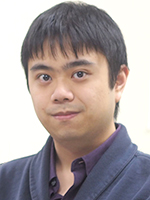 Not only is the detail-oriented Daniel engaged in every stage of his own research project, he also takes an active interest in the work of others, participating in research discussions and collaborating with his peers. Daniel demonstrates the spirit of cooperation. He brings together the engineering, research and clinical communities through his work.
Daniel is also recognized as a gifted presenter. He worked on an accessible skin cancer screening technology and was able to exchange ideas with the best and brightest in the field, and solidify his role as a future leader in the research community.
"I hope that the technology I am working on sees commercialization. Going further, I think skin cancer detection is only the beginning. This technology could have other applications in the future," says Daniel. "The innovations happening in physics and engineering are just as exciting as the potential improvements in patient care."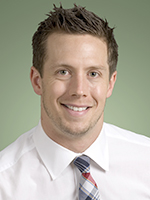 As the first orthopaedic resident admitted to the competitive Clinician Investigator Program at UBC, David never misses an opportunity to his boost his knowledge and broaden his skillset with additional training and education. His clinician perspective continues to provide valuable insight into patient needs as he investigates anterior cruciate ligament (ACL) knee injuries, using unique equipment available to UBC.
"My goal is to identify improved treatments so people with ACL injuries can continue to live active, pain-free lives," says David. "We are using one of the only standing MRI scanners in North America that is dedicated for research use. The MROpen allows us to see what is happening to the knee cartilage under real-life conditions."
With David's talent for research and his passion for improving the care and outcomes for patients, his peers and mentors are excited to see his future contributions to the field.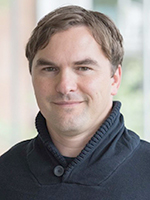 A skilled scientist looking at ways to improve the lives of people with SCI, Matthias is regarded as a huge asset by investigators at ICORD. Complementing his research talent is his training as a board-certified urologist, which supports the translation of information and ideas from the lab into the clinical world.
"Conducting clinical research allows me to have a direct interaction with each participant, which benefits both of us," says Matthias. "I'm not only discovering more about their needs and priorities, but I'm able to receive feedback on different aspects of our research, such as successes, obstacles or side effects. We get to learn from each other."
In addition, Matthias' mentees sing his praises when it comes to his leadership skills and dedication to helping them reach their potential, noting that he is always there to provide valuable support and guidance.
---
These awards will help fund the trainees' travel to international conferences where they will share their findings with the research community. Conference participation is critical to the development of a research career, and we are proud to support them in this endeavour.