First and largest Canadian study to define depression subtypes' biomarkers underway.
Individuals suffering from clinical depression can find hope in a study currently underway that aims to define the biological markers (biomarkers) of depression subtypes and help identify better, more effective, personalized treatments.
"It's important for people to understand that clinical depression has subtypes – it isn't just one disease," says Dr. Raymond Lam, co-principal investigator with the Canadian Biomarker Integration Network for Depression (CAN-BIND). "Clinical depression is like pneumonia – there are many causes and symptoms requiring different treatments that work best for each."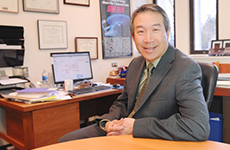 CAN-BIND comprises researchers and physicians from eight Canadian universities, including the Mood Disorders Centre of Excellence at UBC Hospital. CAN-BIND's vision is to identify meaningful constellations of features from patient clinical, imaging, and molecular data, to develop depression subtype biomarkers.
Researchers anticipate that establishing biomarkers will lead to developing effective diagnostic tests specific to depression subtypes and identifying early indicators of positive response to treatment.
"Until now, treating depression has been trial-and-error and largely based on reported symptoms," says Lam. "Looking at symptoms isn't helpful enough and anything we can do to better predict which treatments work best will benefit patients more."
The study is novel in its multi-modal bioinformatics approach integrating neuroimaging, neurophysiological identifiers, and extensive patient and family history of mood disorders, and is the largest depression study ever in Canada.
Canada a leader in clinical depression research
Although efforts have been made in areas of biomarker research in other countries, none have successfully produced biomarkers for depression subtypes that specifically help guide treatment selection.
"This study elevates Canada to a new level in the world of clinical depression research," says Lam. "Having these Canadian Centres of Excellence work together in this common effort is exciting."
CAN-BIND's study is collecting data from approximately 400 patients with clinical depression as well as a healthy control population. First published findings are anticipated within five years. The project will also link up with similar studies in the United States and Europe to develop large-scale and collaborative datasets.