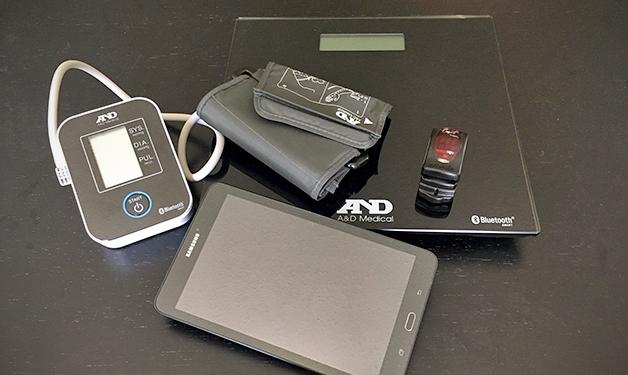 News Release from Vancouver Coastal Health
Vancouver, BC – When Jane Grafton struggled to breathe after taking a few steps, she knew something was terribly wrong. The South Surrey resident was admitted to hospital in March and diagnosed with cardiac dysrhythmia, a life threatening condition. "The severity of my heart failure finally hit home," says Jane.
Jane's care didn't end when she was discharged from hospital. She is one of 40 B.C. patients with heart failure currently enrolled in TEC4Home, an innovative four year study that aims to improve patient care and reduce unnecessary emergency department visits. TEC4Home will soon begin clinic trials involving up to 900 patients in several health authorities including Vancouver Coastal Health, Interior Health and Fraser Health.
Patients like Jane are set up with a home tele-monitoring system provided by Telus Health that collects biometric measurements. The patients take their own blood pressure, weight and oxygen saturation on a daily basis and answer questions about potential symptoms. The information is assessed remotely by TEC4Home nurses. "I review medications, symptoms, liaise with family doctors, cardiologists, nurse practitioners, and other health professionals to better manage the patient's care," says Dianne Ross, Home Health Monitor Nurse, Vancouver Coastal Health. "By teaching people to recognize their symptoms early and report early, we can be proactive, rather than reactive."
Chronic heart failure is the third leading cause of hospital stays in Vancouver Coastal Health. "We know that one in four patients with heart failure will be re-admitted to hospital within one month of discharge," says Dr. Kendall Ho, principal investigator TEC4Home and VCH and UBC Emergency Medicine physician. "By engaging patients to take care of themselves the best they can with great support from their monitoring nurses and family doctors, we can achieve more personalized health services, better outcomes, and reduce the need for unexpected emergency department or hospital visits."
TEC4Home is a partnership between Vancouver Coastal Health, UBC Faculty of Medicine, the Canadian Institutes of Health Research, the Michael Smith Foundation for Health Research, the BC Ministry of Health, Telus Health, Providence Health, Cardiac Services BC, Vancouver Division of Family Practice, Vancouver Coastal Health Research Institute and VGH & UBC Hospital Foundation. It is supported by the Pacific Health Innovation eXchange (PHIX), which aims to accelerate research to improve patient care.
"TEC4Home is an example of how collaboration across the research network can result in innovative products and services that better serve our patients now and into the future," says Mary Ackenhusen, President and CEO Vancouver Coastal Health. "It gives us just a glimpse of what is possible and how technology can help meet the needs of patients without them having to leave their own home."
Jane Grafton is a firm believer in TEC4Home. "It put me at ease knowing that my monitoring nurse was liaising with a cardiologist and my doctor to ensure I was well taken care of," says Jane. "Previously, part of my problem in staying out of hospital was that I didn't have a good and constant monitoring system, but the new program took care of that."
Vancouver Coastal Health is responsible for the delivery of $3.3 billion in community, hospital and residential care to more than one million people in communities including Richmond, Vancouver, the North Shore, Sunshine Coast, Sea to Sky corridor, Powell River, Bella Bella and Bella Coola.