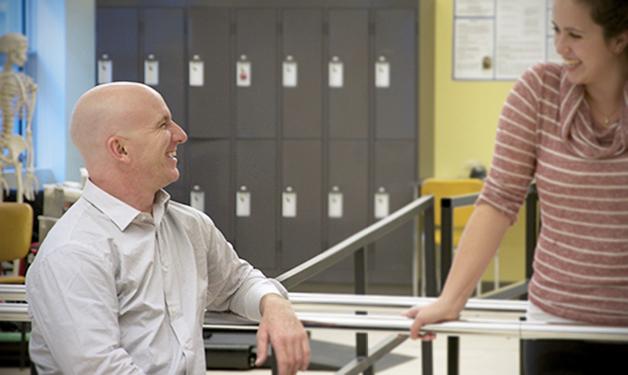 "I say yes to participating in research because it definitely allows you to gain knowledge, which is key to me."

– John Chernesky, Vancouver
Vancouver resident John Chernesky has been unable to walk unassisted and been using a wheelchair for mobility since a car crash in 1993 left him with a spinal cord injury (SCI). More than 20 years later, while participating in an International Collaboration on Repair Discoveries (ICORD) clinical study investigating vibration therapy, Chernesky was able to take his first few unassisted steps since the accident.
"It was a pretty big deal for me and quite overwhelming," explains 39-year-old Chernesky, who is the Consumer Engagement Lead at the Rick Hansen Institute. "On most days during the study, I needed to hold onto the parallel bars constantly for fear of having a big muscle spasm that could throw me to the ground or losing my balance and falling. But on one particular day everything felt right and I was able to gradually loosen my grip on the bars to the point where I was just using my fingertips, then only one finger tip, and then I said, 'I'm going to try this' and I let go of the bars and was able to take a few steps unassisted."
Chernesky was participating in a study looking at the use of a vibration wave platform to treat muscle spasticity in individuals with SCI. The platform is a device upon which a person typically stands in order to have their whole body vibrated, stimulating muscle activity.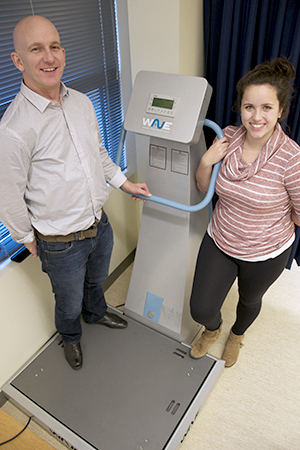 Chernesky unexpectedly became one of the study's co-investigators after casually mentioning his interest in the device to Dr. Bonita Sawatzky, a principal investigator at ICORD, which is a research centre in the UBC Faculty of Medicine and the Vancouver Coastal Health Research Institute.
"John came to us and said that he'd tried out the platform and it made his muscles feel good," says Dr. Sawtazky, who is also an associate professor in the Department of Orthopaedics at the University of British Columbia. "And I said, 'it's a proper research tool so if you want to actually try it we need to turn this into a research study.'"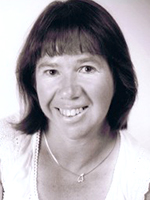 Chernesky agreed and became part of the research team. Despite no formal health research or science background, he was well prepared for the role, having participated in a number of ICORD studies. 
"I knew that by participating in research, I would get direct contact with SCI experts," explains Chernesky. I found them engaging and I was able to ask questions. It definitely allows you to gain knowledge, which is key to me."
"ICORD is interdisciplinary but we're also trying to engage the community," says Dr. Sawtazky. "Community engagement has played a huge part–people now have something to gain from being here. They're actually being players in the whole research side of things. We've worked hard to create that kind of community engagement."
Studying vibration for spasticity
Following their conversation, Chernesky and Dr. Sawatzky teamed up with ICORD investigator Dr. Ben Mortensen and University of British Columbia student Alison Williams to design a study that looked at how the use of the vibration wave platform could alleviate muscle spasticity among people with SCI. Spasticity is a condition in which certain muscles are constantly or intermittently and involuntarily contracted and is common among individuals with SCI.
"I can't just sit back and relax like most people. My muscles are constantly engaged and never turn off. It's very fatiguing–it's almost like having to hold your body in a plank position for the rest of your life," Chernesky says.
"Of all the things that come along with SCI, spasticity is the biggest hindrance that I have," says Chernesky.
Dr. Sawatzky explains that vibration wave platform therapy is thought to help most people by stimulating muscle activity and building strength. Vibrations could also work by potentially distracting from the signals that stimulate the muscle contraction, thus reducing spasticity.
Chernesky and the other study participants chose the vibration wave frequency they were comfortable with and used the platform on and off for 16 weeks, three times per day. Of the three study participants, only Chernesky found the therapy beneficial.
"I found that the vibration platform activated a lot of the smaller more intrinsic stabilizing muscles," explains Chernesky. "By doing that, it created more stability in my core and allowed the overactive muscles, the larger hyperactive muscles, to relax when the more atrophied muscles became activated."
He describes being able to reduce the muscle spasms using a non-pharmaceutical approach as "amazing" because often such drug therapies cause muscle flaccidity in all parts of the body and have significant cognitive and sedating side effects.
Chernesky hopes to work with the researchers at ICORD on further vibration wave platform studies.
"I'd like to try to assess why vibration worked for me and not other participants," he says. "I want to find ways for it to work for everyone."
THIS IS ONE PATIENT'S STORY OF PARTICIPATING IN A CLINICAL TRIAL. YOUR EXPERIENCE MAY DIFFER. LEARN MORE ABOUT CLINICAL TRIALS BEFORE PARTICIPATING.