"I say yes to participate in research because I believe it can make life better for my patients and colleagues."

– Jeffrey Dela, Vancouver
As a newly appointed rehabilitation worker with a program for older adults with mental illness at Vancouver General Hospital (VGH), Jeffrey Dela looked forward to leading activities with his patients: going on field trips, watching movies and having tea times. Then the COVID-19 pandemic hit, and the physiotherapist and occupational therapy assistant had to switch gears.
"Patients needed to be isolated in their rooms to protect them from the COVID-19 virus, which was very hard on them and staff," he recalls. "We needed to find something else to keep patients connected and engaged with the world and recognized the important role that family played in elevating their spirits."
Around the same time, Dela was contacted by Vancouver Coastal Health Research Institute researcher Dr. Lillian Hung. Hung presented him and the older adult program with her Telepresence Robot Project — run through the Innovation in DEmentia care and Aging (IDEA) Lab founded by Hung.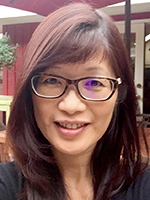 The three-year project is investigating how video conferencing between patients and their loved ones using robots impacts care delivery and the patient experience. 
Family members remotely operate the robots over a secure Wi-Fi connection, moving them around the room on the robots' rolling stands using integrated hardware and self-driving sensors, which can better accommodate patients with disabilities. 
"The robots give family members a sense of autonomy. They are the driver of the call." 
The height and tilt of the robot's screen can also be adjusted to face someone, similar to the animated movements of robots seen in movies. At the end of a call, the robots are programmed to park in an out-of-the-way place and go into sleep mode.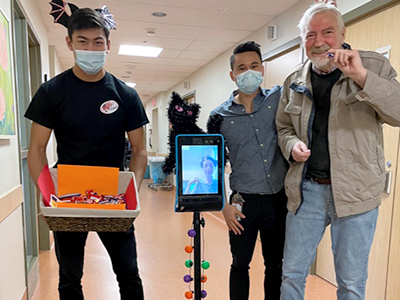 "Especially during COVID-19, when a lot of family members might have been anxiously waiting at home for news, the telepresence robots empower them to regularly see and speak with their loved ones," says Dela. "This has also benefited the sense of well-being and mental health of our patients."
See patients talk with their loved ones using the state-of-the-art telepresence robot technology in this IDEA Lab video:
Hung's patient-oriented research project — which received coverage on Global News and CTV News: Vancouver — is piloting 11 telepresence robots at four Greater Vancouver long-term care facilities. Her research involves patient partners who have lived experience at care facilities, along with care home managers and staff like Dela — who quickly agreed to participate in Hung's research as a staff partner. 
"The telepresence robots have made my job a lot easier," notes Dela. "Since there are 20 patients in our program, it is hard to be one-on-one with each patient all the time. So, I just remind a patient that their loved one is going to call on the telepresence robot in 15 minutes and to get ready for the call. Then, when the time comes for the call, the robot rings and the video call starts. The patient doesn't have to do anything."
"Because I don't need to be there to move the robot around the room, I can focus on other tasks and other patients' needs while the robot is working." 
"One of our patients was so enthusiastic the first time her daughter called her," recalls Dela. "She was lying on her bed, and her daughter moved the robot over to her and faced it down so that they could see each other clearly." 
While Dela is looking forward to a return to pre-pandemic activities with patients under his care, he says the robots are a welcome addition to their team. 
"These are very sophisticated pieces of machinery. And, unlike people, they don't get sick."
This is one patient's story of participating in a research study. Your experience may differ. Learn about clinical trials before participating.