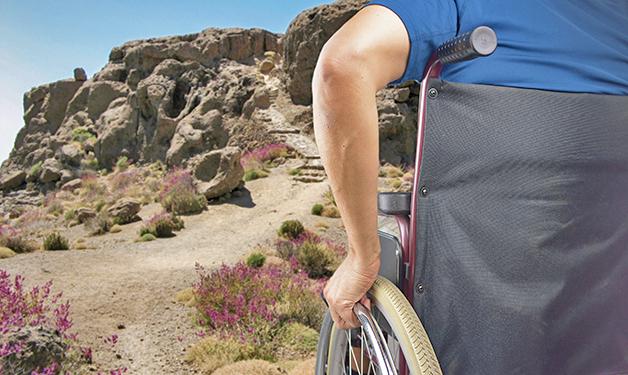 An adaptive hiking program helps participants enjoy the benefits of nature.
Aside from being a good form of physical exercise, outdoor activities like hiking come with additional benefits from decreased stress levels to improved health and relaxation. However, physical impairments from conditions such as arthritis, multiple sclerosis, cerebral palsy and stroke can prevent some people from taking advantage of Canada's many wilderness trails. This is why a team of researchers, led by Ben Mortenson of Vancouver Coastal Health Research Institute (VCHRI), examined a longstanding program that helps people with disabilities go on hikes. 
"There's been very little research done on adaptive hiking programs," says Mortenson. "Our research looked at the positives and negatives associated with them."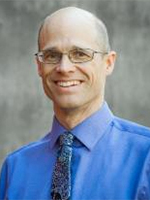 Mortenson is the principal investigator of the study: "Experiences with and perceptions of an adaptive hiking program," which is an initial step to fill a large research gap. To complete the ethnographic study, published in Disability and Rehabilitation in March 2017, researchers went on five hikes through BC forests with participants from the British Columbia Mobility Opportunities Society (BCMOS).
Volunteer guides helped take participants with mobility impairments along forest trails using a TrailRider—a portable chair made with an aluminum frame and equipped with a single wheel, handles and hand brakes for safety.
The TrailRider adaptive hiking program in BC is the longest running of its kind, notes Mortenson. That is largely because the TrailRider was born here. Co-invented by Vancouver-False Creek MLA and former mayor Sam Sullivan, who has tetraplegia, in the early 1990s, the adaptive hiking devices have been used for hikes throughout BC and the world, including along the West Coast Trail, to the summit of Kilimanjaro and to the base camp of Mount Everest. 
Enhancing outdoor accessibility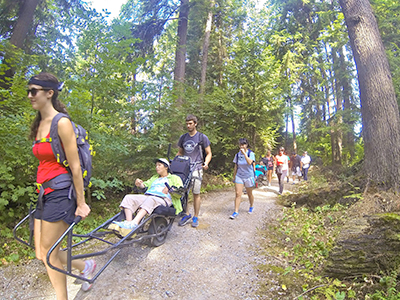 Creating effective programs that improve access to the outdoors can lead to better quality of life for individuals with physical impairments.
Numerous benefits to the TrailRider program are identified in the results of the study led by Mortenson, including how it connects participants with nature and supports the formation of social bonds among participants and volunteers. 
Researchers conducted in-depth interviews with participants and volunteers, as well as took videos of hikes and notes on their observations.
Watch a video of the TrailRider study:
Of the 18 participants who were interviewed for the study, 14 said they felt they would have socialized less and met fewer new people had it not been for the TrailRider program. 
One of the study participants, Barbara, says: "Even if you only meet somebody for an hour, for that hour, you are laughing and you're communicating and you're learning and you're seeing things you haven't seen before. That's great." 
First-time volunteer, Nathan, says he participated in the program because "It's enjoyable for me to see other people happy—I feel like it's my ability to give back."
Given the benefits of the program, researchers identified several ways to make it easier for people with disabilities to participate, such as increasing transportation options to and from trailheads, modifying TrailRider equipment, enhancing marketing efforts to raise awareness about adaptive hiking programs and attracting additional volunteers to push and pull TrailRiders.
"Programs like this help break down barriers and demonstrate our interdependence," says Mortenson, "as both volunteers and participants benefit from the experience."
Visit BCMOS website for more information about volunteering opportunities.