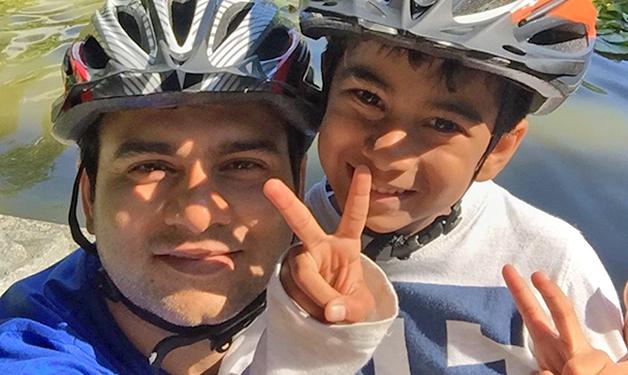 Meet Asif–award-winning maternal health researcher who is inspired by his son.
Q: Tell us about your research and why you're interested in this area?
A: I am passionate about supporting moms and newborns to thrive and be healthy. I'm especially interested in how we can support them in parts of the world with fewer resources and less access to health care—where help is often needed the most. My doctoral research focuses on the economic evaluation of community-level interventions for preeclampsia. Preeclampsia is a pregnancy complication characterized by high blood pressure. It is the second leading cause of maternal death in Pakistan. The findings from my research will inform policy decisions on resource allocation for the scale-up of community-based interventions. 
Q: You won a Rising Star award earlier this year for your outstanding academic achievements and mentorship. What advice do you give on your research mentees?
A: I believe that balance in life is the most important driver for success. It can be achieved through effective time-management skills, teamwork and self-reliance. The greatest way to master your own skills is by sharing them and helping others with your knowledge and expertise. Always keep a look out for opportunities to contribute intellectually and to learn from others' experiences. 
Q: Who has inspired you or helped you along the way—and how?
A:Honestly, I am inspired by my son. He just turned 8. For him, failure is yet another opportunity to try again and never give-up. He often helps me learn new technology and shares really interesting perspectives for me to consider in my work. I am sure he will continue to inspire me in the years to come. It's fascinating to be surrounded by little champions who can teach you to make small steps towards a big victory. 
Q: What has been the proudest moment of your career thus far?
A: The proudest moment thus far is when I received the Canadian Institute of Health Research Vanier doctoral scholarship. All the hard-work in my research, the leadership on various trainee committees and the excellent mentorship from my advisory committee really helped me win this award.
Q: What do you like to do in your free time to balance the demands of research?
A: I like to spend time with my son and daughter as well as at my local community centre to pray–it helps me return to research with a fresh mind. 
Q: What was your first job?
A:At 15 I got my first job as an office typist in a small town in Pakistan. At that time there were very few computers in Pakistan, so I had to type and retype several corrections on a bunch of long letters. But I still loved my job a lot!
Q: Where do you see yourself in 20 years?
A: I enjoy teaching and learning! Professionally, I see myself working as a faculty member in global health program, teaching health economics. On a personal note, I want to see my son and daughter graduate from university.