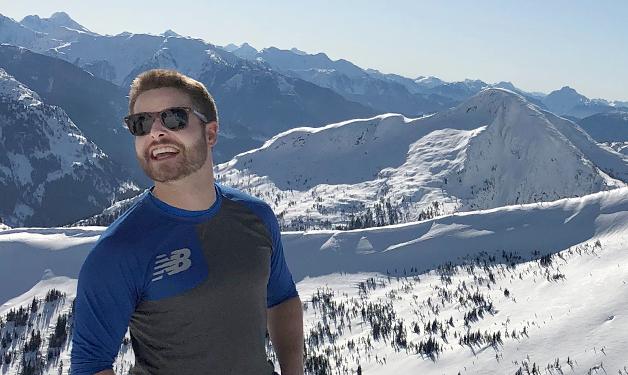 Meet Brian – conquering mountains, both literally and personally.
Q: What is your role and interest in health research?
A: I am currently working on my Master's of Science in Kinesiology at the International Collaboration On Repair Discoveries (ICORD) research centre under the guidance of Dr. Chris West. My thesis project focuses on the impact spinal cord injury has on heart function. In particular, I seek to improve our understanding of how heart function changes in isolation from the rest of the body following spinal cord injury. I am also currently serving as the co-chair for the ICORD trainee committee, hosting trainee-focused presentations, workshops, socials and symposiums to foster an encouraging, collaborative research atmosphere.
Outside of my academic life, I have been studying different aspects of health care through volunteer opportunities at the Physical Activity Research Centre and at the CHANGEpain clinic. Through this volunteer work, I am developing skills for a clinical care setting, which supports my interest in pursuing a career as a clinician who also performs research. These additional experiences are helping me hone my ability to work with a variety of people and patients, and provide insight into the delivery of different forms of care, which I hope will shape my career path in the future.
Q: What is the best part of your job as researcher?
A: The opportunity to study science in such a welcoming and collaborative setting has been incredible. From my experience with the ICORD Trainee Committee to the individual work with Dr. West's lab, I have always felt encouraged to whole-heartedly pursue my research. 
Q: What has been the proudest moment in your career so far?
A: I was recently awarded two scholarships – a Canadian Graduate Scholarship from the Michael Smith Foreign Study Supplement Program and a Mitacs Globalink Research Award – to fund an upcoming research placement at the University of Split in Croatia. I have not had the best luck with scholarships, so I was incredibly surprised and grateful to receive these awards, and am very excited to further my research experience in a new environment.
Q: Who inspires you?
A: My grandmother and grandfather have always inspired me to chase my dreams. At times, my goal of working in health care seemed impossible to achieve. Hearing stories from my grandparents about all of the challenges they have faced – moving to Canada with a young family, overcoming polio and a stroke – and recognizing that they were still able to lead long and happy lives, has given me that extra boost of motivation that I need to continue to pursue the career I want.
Q: What do you like to do in your free time?
A: I love being outside and active in my spare time. I bike and run during the week and hike and backpack on the weekends. I love being up in the mountains. When I see a peak, I cannot resist the urge to stand on it. I also sing with friends in a small a cappella group.