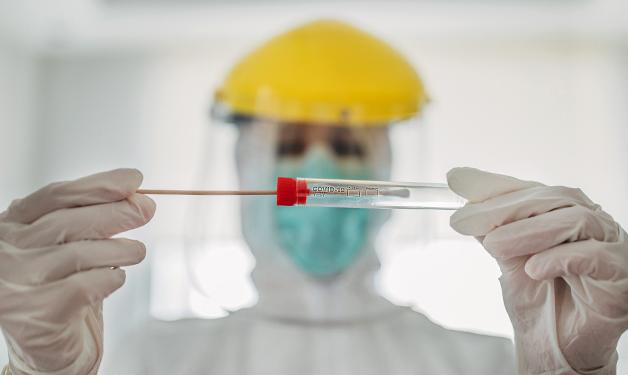 The antibody-based treatment shows promise as temporary therapy against the virus.
The immunotherapy based on antibody research being developed by Vancouver Coastal Health Research Institute researcher Dr. Horacio Bach could provide short-term protection against the novel coronavirus, SARS-CoV-2. To date, COVID-19—a disease that largely affects the respiratory system—has claimed the lives of over 870,000 people worldwide. 
"One of the challenges we face with regards to a potential COVID-19 vaccine is that we do not know if it could offer long-term protection against reinfection," says Bach. 
"Our system could offer an effective and safe therapy right away."
Bach, study co-lead Dr. Ted Steiner and their team are developing single-chain antibodies that would neutralize proteins the COVID-19 virus employs to infiltrate cells—keys it uses to unlock cells in the body and destroy them. 
This is no small feat, as there are millions of potential antibodies to choose from. While it may seem like finding a needle in a haystack, Bach and his team have already identified over 20 hopefuls since beginning their research in April.
"We have some promising antibody candidates already, and one in particular that is neutralizing the virus."
Researchers are using a novel approach involving a bacterial system to screen the antibodies. An antibody attached to a non-infectious virus is injected into a bacteria, and after a processing process, researchers check whether that blocks viral proteins used by COVID-19 to infiltrate host cells. 
 
Several protective antibodies against COVID-19 are being sought, as the virus possesses a multitude of protein keys to unlock the body's cells. The ideal therapy would contain an antibody cocktail that can guard against multiple lines of viral attack.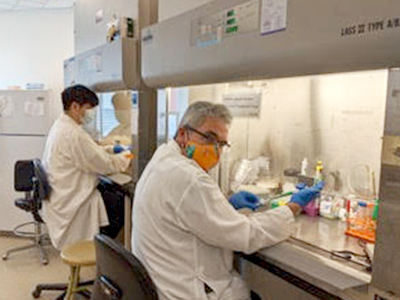 "The goal of this treatment is not to provide long-term immunity that a vaccine would," says Bach, but one dose could shield against the virus for several hours or more until protective antibodies are processed and expelled from the body—long enough to catch a flight, go to an appointment or see a loved one.
Bach anticipates that this groundbreaking approach will enter human trials by spring 2021.
Inhaled antibodies could avoid a cytokine storm 
Bach's therapy has the potential to prevent a cytokine storm—when the body's immune system goes into overdrive and starts attacking healthy cells, which can lead to inflammation and organ failure. 
The novel coronavirus infects a certain type of cell, mostly primary airway epithelial cells. Once these cells are infected, white blood cell antibodies, called macrophages, attack the virus-containing cells and internalize them.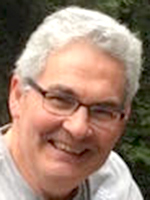 Problematically, COVID-19 also infects macrophages with its protein key, which can lead to a heightened and potentially deadly immune response, or cytokine storm. "This is something that is unique to coronaviruses, as typically the macrophages would destroy the virus and not become infected with it," says Bach.
Bach's therapy could sidestep this problem by encapsulating COVID-19 with antibodies that would not infect macrophages, giving the body a leg up on slowing and stopping the disease. 
"We hope that this treatment will help the immune system clear the COVID-19 virus from the body without inducing inflammation or a cytokine storm."
The safety of the therapy also increases the likelihood that it could be approved faster than other potential therapies, says Bach.