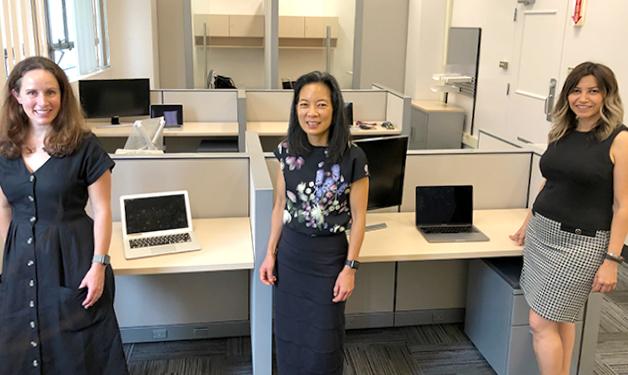 The new informatics core at VGH is harmonizing data sets from around the province to support better women's health outcomes.
When it comes to mapping and predicting the behaviour of gynecologic cancers, the more information researchers have at their fingertips, the better. Headed by a team of three OVCARE and Vancouver Coastal Health Research Institute researchers, the new Big Data Solutions Lab is poised to become a leader in high-tech research for women's health care. 
"We have entered an era in which big data will likely be a primary driver of medical advances and better treatment outcomes for patients," says Dr. Aline Talhouk, who leads OVCARE's clinical informatics core and is an inaugural Big Data Solutions Lab team lead, along with Dr. Gillian Hanley and Dr. Janice Kwon.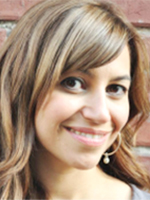 Located within the Vancouver General Hospital (VGH) Research Pavilion, the 1,000 square feet of dry lab space—featuring three offices, a meeting area and 19 work stations for staff and trainees—gives the research teams room to grow. Its COVID-19 friendly layout also means operations can safely begin right away. 
"The biggest asset of the space is the people in it. This is a stellar team that will do great work in conjunction with other teams and research institutions locally and around the province."
Taking a page out of the book of interdisciplinary research and cross-pollination opportunities, the Big Data Solutions Lab is in close proximity to VGH's clinical hospitals, Diamond Health Care Centre, two molecular research labs and the Centre for Clinical Epidemiology and Evaluation (C2E2).
"The close proximity to other teams, such as C2E2, will make it easier for us to move projects forward, bring other people on board and study women's health and gynecologic cancer," says Hanley.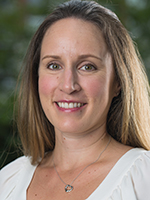 The space, which is supported by the VGH & UBC Hospital Foundation, was originally assigned to the Women's Health Research Institute (WHRI). However, it was offered up to the Big Data Solutions Lab by WHRI executive director Dr. Lori Brotto in recognition of the joint collaboration between the Gynecologic Cancer Initiative, with which Hanley, Kwon and Talhouk are affiliated, and WHRI in support of gynecologic cancer research.
Researchers link data sets to zero in on precision medicine
"Our team has coalesced around the vision that through research we will be able to reduce death and suffering from gynecological cancers by 50 per cent," says Dr. David Huntsman, co-founder and director of OVCARE. "The Big Data Solutions Lab will enable us to work across our population, gain new insights into these cancers and develop and implement novel solutions to ensure no woman in BC is left behind."
One of the greatest obstacles to achieving this goal remains the complexity of the five main gynecologic cancer types—cervical, ovarian, uterine, vaginal and vulvar1—and their many subtypes, notes Hanley. 
For example, ovarian cancer—which is the fifth most common and the most deadly gynecologic cancer2—is actually five different diseases, states Hanley.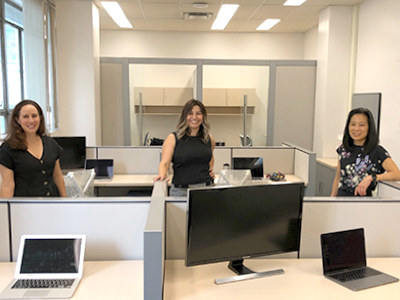 Linking together data points from sources such as tissue banks, molecular data sets, hospitals and patient accounts assists Hanley and other researchers by providing added layers of specificity about disease types and subtypes. Novel linkages and observations can flow from this more detailed data, which can also push the envelope of understanding about gynecologic cancers.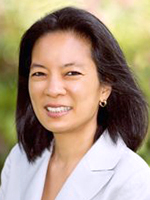 For her research, Kwon examines the costs of administering certain procedures, along with treatment outcomes, to help determine the best use of health care dollars. 
Talhouk stratifies patients and personalizes treatment plans to improve care and better patient outcomes using administrative data sets paired with information from one of the largest repositories of molecularly subtyped cases of endometrial cancer in the world. She also plans to use various digital data sources, including wearable technology and phone applications, to identify women at high risk of developing gynecologic cancer who would benefit from risk-reduction strategies.  
"Being able to link these data sets allows me to paint a more detailed picture of each patient and identify complex patterns using machine learning," says Talhouk. "This will improve our understanding of disease, and allow us to tailor prevention and treatment strategies to specific disease types and the needs of individual patients." 
1 Centers for Disease Control and Prevention - Basic Information About Gynecologic Cancers
2 Ovarian Cancer Canada - About Ovarian Cancer