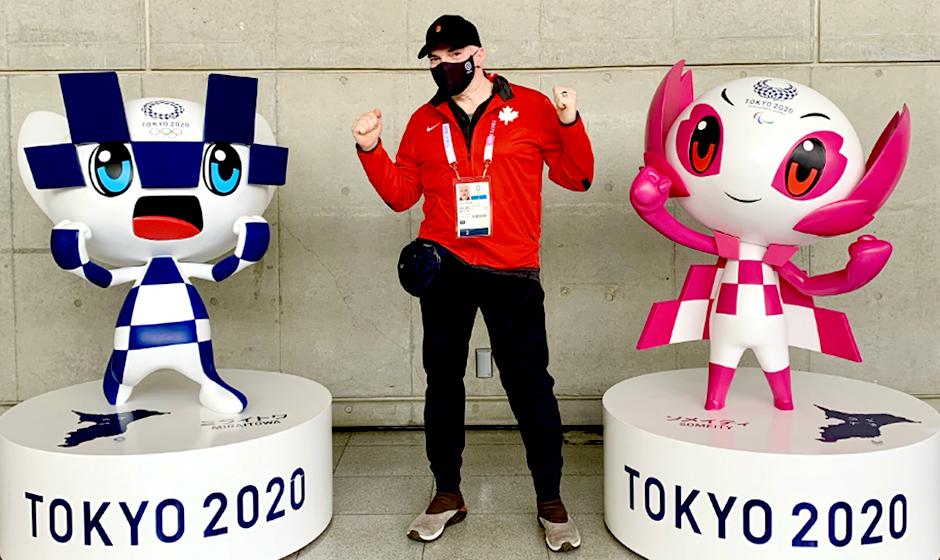 Medical teams at the 2020/21 Games use new approaches to keep athletes safe in the age of COVID-19.
Dr. Babak Shadgan, the chief medical officer (CMO) of wrestling competitions at the Tokyo Olympic Games and a Vancouver Coastal Health Research Institute investigator, is bracing himself for one of the most challenging experiences he has faced at the international sporting event. 
"My days will start at 7 a.m. with the athletes' COVID-19 screening and medical examination before they are weighed in, and will end after I finish supervising the doping control procedures that can sometimes take until midnight," says Shadgan.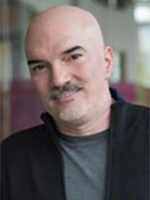 His fifth Summer Olympics, Shadgan is a veteran at supervising and caring for the health and safety of wrestling athletes before, during and after matches—which involve a lot of physical contact as athletes twist, turn and use strength, dexterity and mastery of the sport to get the upper hand on their sparring partner.
In his CMO role, Shadgan directs medical policies and interventions for all of the men's and women's Olympic wrestling competitions. He makes the call about whether or not athletes are safe to continue competing, and treats injuries. 
"Every sport has its own medical team," notes Shadgan. "This is because the type, severity, mechanisms and patterns of injuries that we find in wrestling are different from, for example, what we find among swimming athletes."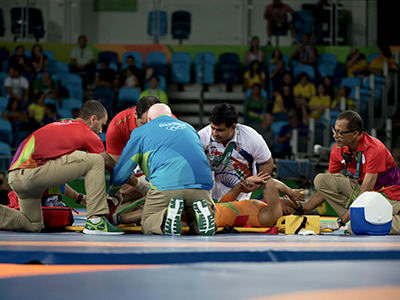 Shadgan is also the president of the Medical, Prevention and Anti-Doping Commission of United World Wrestling. In this role—which builds on his extensive experience working with wrestling athletes and their related injuries for over 20 years—Shadgan oversees injury prevention protocols for wrestlers, coaches, referees, team directors and managers. 
He has been instrumental in the creation of new rules to improve the safety of the sport, such as the four-minute bleeding time rule.
 
"Based on scientific data collected over the past 10 years, we created this rule and other regulations to protect the health of our athletes," says Shadgan. "If a bleeding wound cannot be stopped after four minutes, it means the condition is serious and the wrestler should be removed from the competition in order to receive further treatment."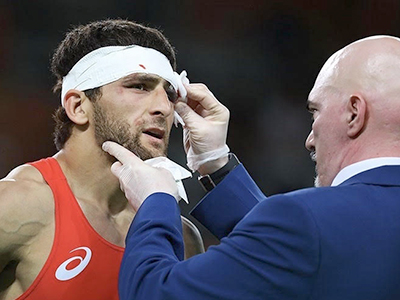 Other policies he co-designed to protect wrestler safety include banning one-leg rotations, which can result in damage to the knee joints, and a no head locking rule to prevent cervical spine injuries.
In 2019, Shadgan established a program that provides wrestling-specific medical education to sports physicians. The program is currently being shared with many national wrestling federations around the world to offer to their local sports physicians. 
Solutions to prevent the spread of COVID-19 at the Olympics
COVID-19 presents a host of new challenges that the International Olympic Committee and Tokyo Organizing Committee of the Olympic and Paralympic Games had to grapple with. These include how to test for COVID-19 infection, and what to do in the case of a positive test result for the potentially life-threatening respiratory illness.
Athletes must test negative for COVID-19 twice before leaving their home country, as well as once after arriving in Tokyo. Following that, they receive a daily COVID-19 antigen test, which can detect proteins found on the surface of the virus in around 20 minutes. 
In the case of a positive test, a Results Advisory Expert Group, which includes Shadgan, determines whether another test should be administered, and how to proceed with any required contact tracing and physical distancing measures. 
"All of this can add a lot of stress to an already stressful situation for our athletes," says Shadgan. 
"We do our best to communicate with our national wrestling teams to keep them informed of the situation."
Before flying to Tokyo, Shadgan and his colleagues were involved in at least 20 international meetings, starting in October 2020, to discuss COVID-19-related health and safety protocols for the Games, which will see almost 300 wrestling competitors from around the globe compete for 18 gold medals. He met with national wrestling federations, coaches, trainers, athletes and referees to talk about safety measures to follow over the course of the six allotted days for the wrestling competition at the Games.
Unlike previous years, referees will not shake hands and perform the iconic lifting of the winner's arm at the end of a sparring match. This reduces physical contact that could spread the COVID-19 virus, notes Shadgan. Athletes were also informed that they would need to maintain a physical distance of at least six feet apart from other athletes during podium ceremonies.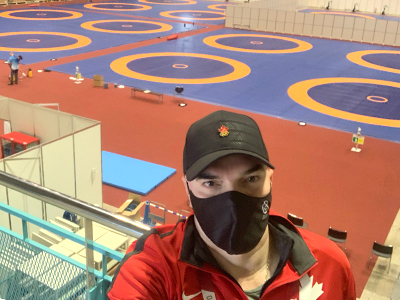 While the Tokyo Olympics may prove to be more challenging than in the past, Shadgan says he is still living the dream that began 20 years ago when he completed his sports medicine training at Queen Mary University of London.
"Being able to now work at the international level as a sports physician at the Olympics is one of the best things that I could have wished for."