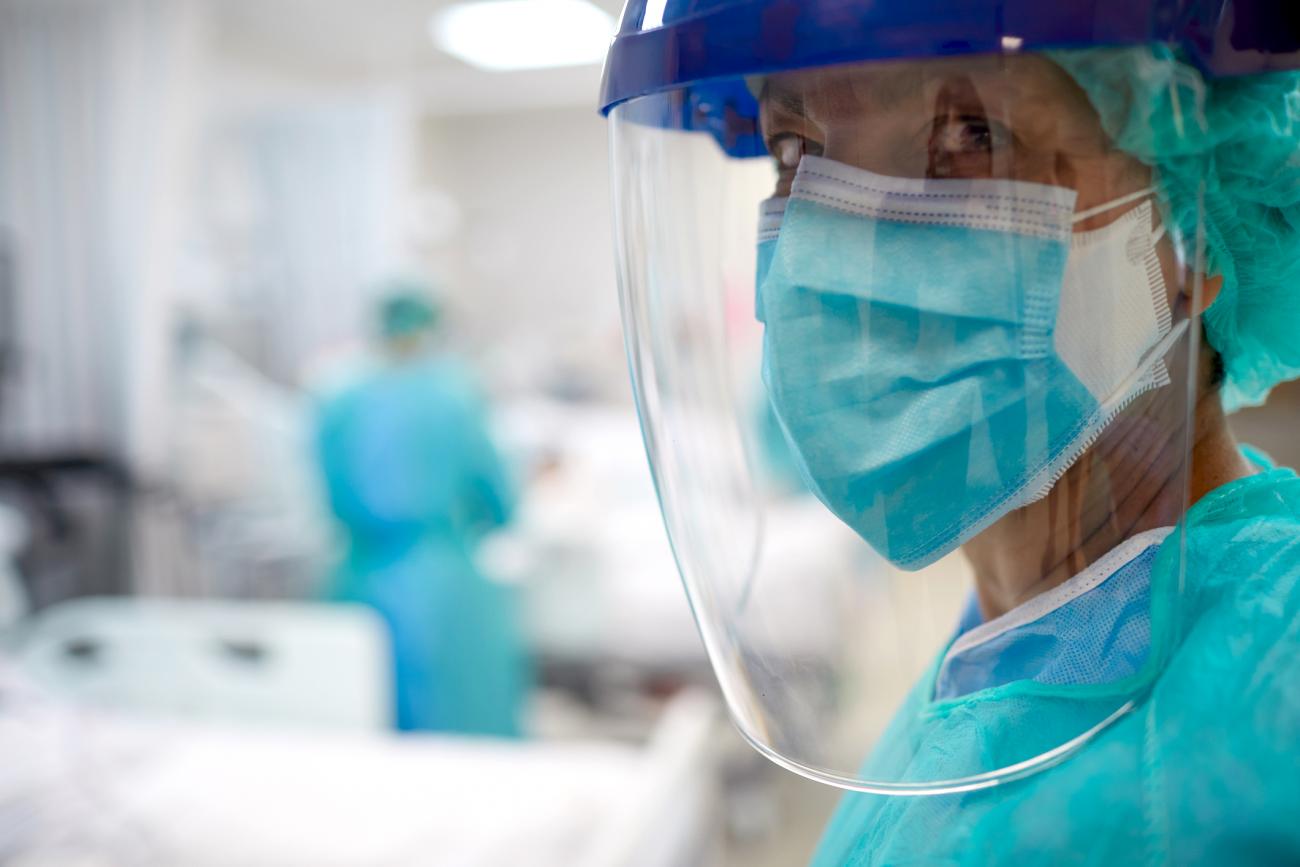 Evidence demonstrates that personal protective equipment and vaccination significantly shielded health care workers from contracting COVID-19.
Health care workers have been on the front lines of the COVID-19 pandemic since it began in early 2020. Diagnosing, treating and caring for patients infected with the virus, they were potentially put at higher risk of contracting the disease without proper protection. Despite this, research led by Vancouver Coastal Health Research Institute researcher, Dr. Annalee Yassi, found health care worker infection rates were similar to those of the general population, even in the face of more transmissible COVID-19 variants of concern.  
"Our research shows that the proof is in the pudding," says Yassi, who leads Physician Occupational Safety and Health (POSH), the occupational health program established at Vancouver Coastal Health (VCH) to protect medical staff. 
"Properly protecting health care workers lowered their risk of becoming infected with and potentially passing on the COVID-19 virus." 
The novel SARS-CoV-2 virus has spread throughout the world, infecting hundreds of millions of people with the respiratory disease. While the majority of infected individuals will have mild to moderate symptoms—or no symptoms at all—people who are immunocompromised or elderly, as well as individuals with conditions such as heart disease and diabetes, are at greater risk of severe and potentially deadly complications from the virus.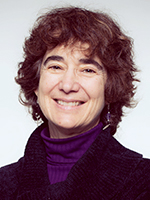 In British Columbia, health care workers were among the first people to receive COVID-19 vaccination—a proven, effective way to reduce disease transmission and severity. As of September 2021, almost 80 per cent of British Columbians had rolled up their sleeves for at least one dose of a COVID-19 vaccine, and the average percentage of vaccinated health care workers is estimated to be higher.  
Vaccination and proper protocols protected health care workers
Yassi's retrospective research study captured a snapshot of the impact of the combination of public health, infection control and occupational health measures—including COVID-19 vaccination—on SARS-CoV-2 infection rates among over 25,000 VCH health care workers. 
Her study accessed vaccination and infection statistics collected by POSH, which was created at the beginning of the pandemic to provide medical staff with confidential expert advice, contact tracing, vaccination reminders, along with exposure notifications and assessments. 
Even before vaccines were available, the COVID-19 transmission rate among health care workers closely mirrored that of the general population, Yassi's research concluded. The seven-day COVID-19 test positivity rate average during the first wave—March 1, 2020 to June 1, 2020—was 2.35 per cent versus the general population's 2.27 per cent: "likely due in part to quicker access to testing among health care workers," Yassi says.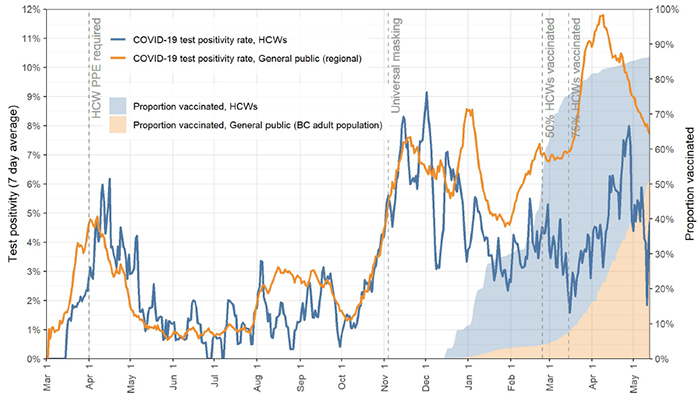 By the end of the study period on May 13, 2021, her team's analysis revealed that around 58 per cent of nurses, licensed practical nurses, care aids, administrative staff, allied health workers, medical staff and others had received at least one dose of a COVID-19 vaccine—and around 29 per cent were fully vaccinated.
Yassi's data analysis shows that the infection rate of unvaccinated health care workers was 1.33 per 10,000, while that number dropped to 0.89 for partially vaccinated and 0.3 for fully vaccinated health care workers, respectively, by May 13, 2021. This, she says demonstrates that vaccination further reduced the risk of infection, likely from community exposures.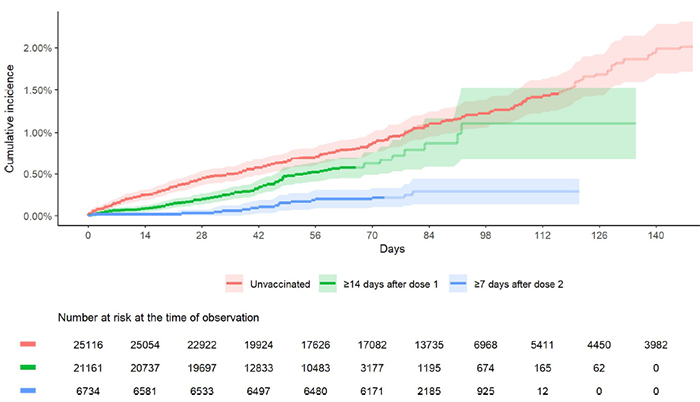 By May 13, 2021, around 92 per cent of all COVID-19 infections in B.C. were caused by the B1.1.7 and P.1 COVID-19 variants of concern. However, Yassi believes that vaccination, personal protective equipment (PPE) and other public health and infection control protocols reduced workers' risk of contracting these more transmissible variants.
The routine use of surgical and N95 masks protected workers from aerosolized droplets emitted from infected patients in high-risk situations. Additionally, isolating infected individuals and robust testing, contact tracing measures and educational efforts, all helped reduce COVID-19 transmission among health care workers, she adds.
"The fact that the COVID-19 infection rate in the health care workforce was no higher than that of their community tells us that the protections and policies in the workplace are doing their job." 
While these results show an encouraging trend, Yassi says her work in this arena—which she has been pursuing for over two decades—is not complete.
"Our study highlights the need for more efforts to reduce vaccine hesitancy and more research into perspectives and statistics on vaccination and PPE to better understand health care workers' concerns and how to address them."
Her team is currently working with the Interior Health Authority on a similar analysis of COVID-19 infection rates among health care workers within that region.