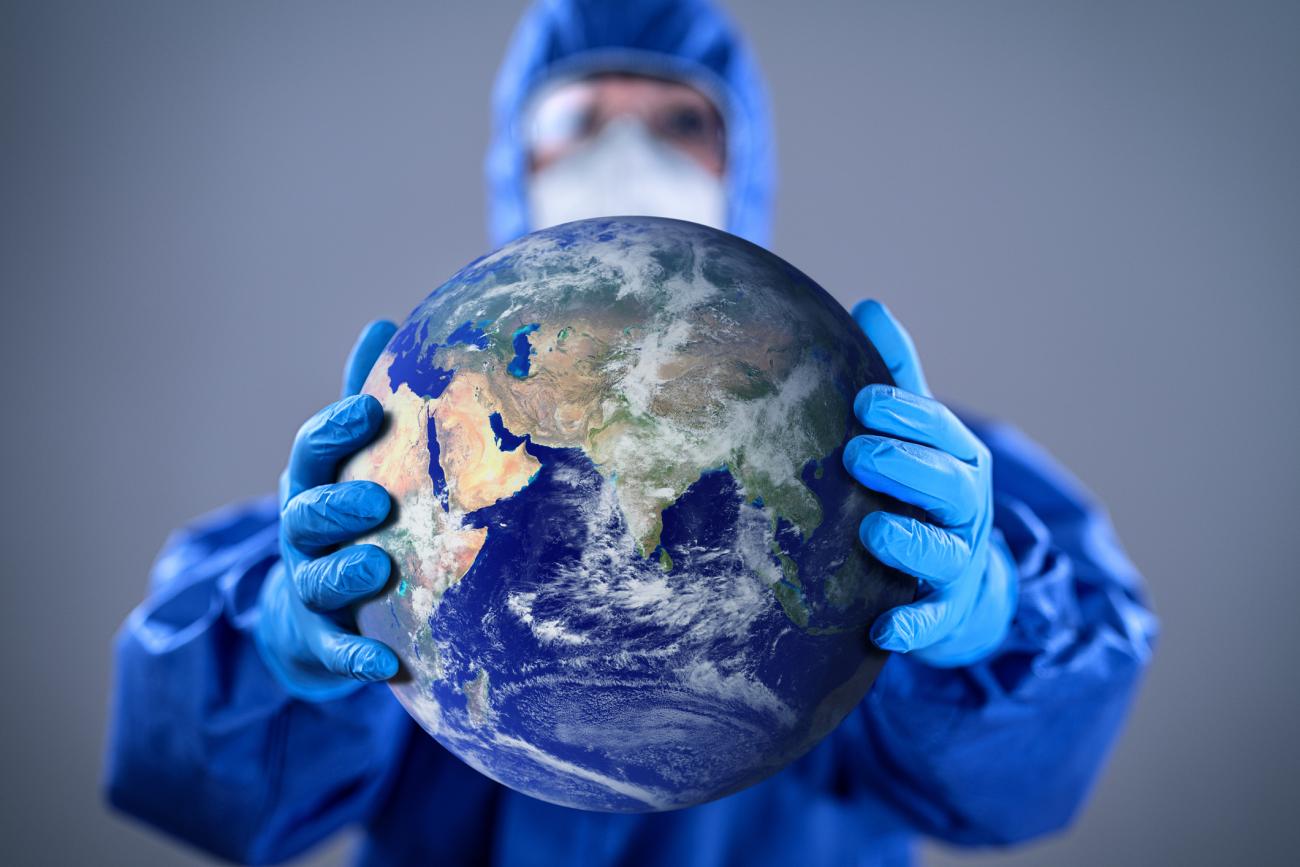 The health care system is responsible for significant carbon emissions — research shows that reducing them is better for the planet and patient care.
As the world continues to experience the effects of climate change, there is an urgent need to reduce greenhouse gas (GHG) emissions, including within the health sector. Vancouver Coastal Health Research Institute researcher Dr. Andrea MacNeill explains why making this move can be good for the environment and people's health. 
Q: I've heard of sustainability, but what is meant by sustainable health systems?
A: The foundation of sustainable health systems is the pursuit of health and well-being, rather than only the treatment of disease. This involves the recognition of the ecological underpinnings of health: clean air, clean water, clean soil, healthy food systems and a stable climate. We can achieve sustainable health systems by minimizing the negative impacts of health care on the environment and climate, and by maximizing our resilience to changes in the climate and in ecosystems.
Q: Why is this an important consideration in the delivery of health care today?
A: This is important because people around the world, including here in British Columbia, are currently very affected by climate change. There are many worrisome trends in climate-related illness and other negative health effects from climate change — including heat domes and atmospheric rivers in recent years — all of which place added pressure on hospitals and care staff. 
Q: What can be done to improve the sustainability of our health systems in B.C.?
A: Health system sustainability requires that we decrease our GHG emissions — getting them as close to zero as possible. This includes efforts to improve energy efficiency and reduce emissions from health care facilities, but it also requires that we focus on upstream drivers of demand for health services. Every test we order and every treatment we prescribe consumes energy and material resources, and generates waste. Therefore, anything we can do to reduce the absolute amount of care delivered or the complexity of that care will reduce our environmental footprint. 
Reducing demand for health services starts with ensuring that everyone has equitable access to the basic determinants of health, such as healthy food, affordable housing, education and a living wage. It also includes providing access to preventative health strategies, such as vaccines, health screenings and a family doctor. Investing in prevention to detect and treat diseases at an early stage, or prevent their progression to more serious illness, is better for patients and the environment. 
Q: How can sustainable health systems address the challenges of a growing and aging population?
A: The healthier our aging population is, the less reliant people will be on acute care health services, and the less complex their care needs will be, such as the number of surgeries, medications and specialized treatments people need throughout their lifetimes. Healthy aging populations need access to community resources so they can age in their homes for as long as possible, which many people prefer. 
Q: What are the main sources of emissions in the health care sector and how can they be reduced?
A: A number of recent GHG inventories have shown that around 60 to 80 per cent of health care emissions arise from our supply chains, including the manufacturing, distribution and disposal of the items used to deliver care, such as medical devices and pharmaceuticals. A minority of emissions are linked to health care facilities, vehicle fleets and some operational aspects of these. The shift toward disposable devices to deliver care over the last few decades is partly to blame. 
A necessary part of a transition to low-carbon health care is to preferentially purchase purpose-built, reusable devices and consumables. These can be safely cleaned and reused, and would significantly reduce our supply chain emissions. Reusables are also more reliable and give rise to more resilient supply chains. For example, when supply chain disruptions during the early days of the COVID-19 pandemic led to medical supply shortages, some health care providers had to improvise PPE and wear plastic bags. Hospitals with reusable gowns were not faced with the same dilemma and were better able to protect their frontline workers. 
Q: How can I calculate my carbon footprint to help reduce my GHG emissions?
A: Carbonfootprint.com and the Nature Conservancy carbon footprint calculator are quite comprehensive and reputable tools for estimating the amount of GHG emissions we produce in our daily lives.