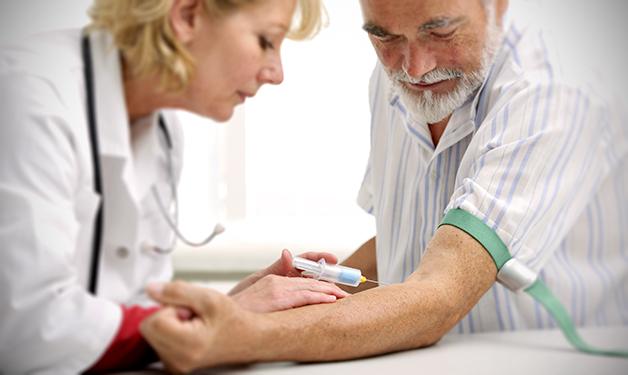 Genetic characterizing of prostate cancer made possible.
Being diagnosed with prostate cancer was shocking for Vancouver resident Daryl Clark, but it wasn't nearly as devastating as being re-diagnosed nine months later despite his seeming success earlier with chemotherapy and hormone drug therapy.
"Suffering a recurrent diagnosis was absolutely worse than the initial diagnosis," says Clark. "Particularly when you think you've got a leg up on it and going in the right direction."
Clark was diagnosed in January 2014 with an aggressive form of prostate cancer and through the BC Cancer Agency he immediately received the most effective and current frontline drug therapy, which many prostate cancer patients typically respond to well for years. However, even though his health improved and he added chemotherapy to his treatment regimen, one year later his cancer was progressing.
At the same time, the Vancouver Prostate Centre (VPC) at the Vancouver Coastal Health Research Institute was carrying out a study that sought to develop a liquid biopsy technique –a simple blood test – that genetically profiled cancers. The study, published in Clinical Cancer Research, is the largest cohort study of patients with advanced prostate cancer to look for prostate cancer-specific mutations floating around freely in blood. It is also the first study to tie results to clinical outcomes.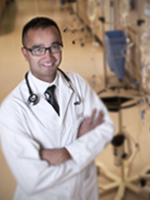 "We want to better understand the genetics for prostate cancer; doing so allows us to understand what the resistance mechanisms are and personalize patients' treatment," says Dr. Kim Chi, associate director of clinical research and senior research scientist at the VPC, and professor in the Faculty of Medicine at the University of British Columbia.
"Some of the mutations we found would lend themselves to different treatments or show themselves to be resistant to a particular treatment. And some of the genes we found may indicate those patients may respond better to a different drug."
For example, using the blood test VPC researchers looked at whether or not genetic abnormalities in the androgen receptor (AR) gene, which drives prostate cancer, lead to worse outcomes with the frontline, major AR-targeted therapy that most patients receive. They found that patients with mutations or genetic abnormalities in the AR were significantly worse on the therapy.
"Daryl Clark's DNA test revealed a mutation in his AR that showed his cancer had changed from when he was first diagnosed – it had mutated and instead of the therapeutic hormone blocking his cancer, it was instead using the therapeutic hormones as food to fuel itself," explains Dr. Chi, who is also medical director of the clinical trials unit at BCCA. "With a switch to an available new drug, his cancer is now responding very well for the past five months."
"The promise in this research is that patients like Daryl will receive the right treatment at the right time without having to do a biopsy, which is often very difficult, expensive and challenging," says Dr. Kim Chi.
"Through a blood test we can genetically characterize a patient's cancer within two weeks," he adds.
VPC researchers are further testing their findings in several clinical trials. If the trials show a strong connection between the genetic profile and treatment, Dr. Chi explains that the blood test would hopefully roll out rapidly.
Clark is proud to report that his latest set of results are excellent and he and his medical team intend to carry on with the current therapy.
"I'm experiencing no pain whatsoever," he says. "I hope that this testing becomes more broadly available. This information might have saved me from suffering another recurrence and all of the devastation that comes with that."