Stopping Granzyme B could prevent blistering in autoimmune diseases and improve wound healing.
Imagine having a sunburn all the time. This is the reality for patients with autoimmune diseases that cause blistering. But hope is on the horizon. Research findings of primary investigator and Vancouver Coastal Health Research Institute scientist Dr. David Granville and his team have revealed the culprit that exacerbates blistering and prevents healing.
"Our skin is a protective shield from the outside world," says Granville, a professor in the department of Pathology and Laboratory Medicine at UBC, and the Centre for Heart Lung Innovation. "When something in the body chips away at that shield, it leaves us vulnerable to disease. Some patients become afraid to go outside because of the appearance of blisters on their skin and the resultant scarring. In addition to health implications, this can lead to depression, anxiety and a poor quality of life."
"If we can prevent these blisters from occurring, we can save patients from the physical and psychological distress associated with such conditions." 
In their paper, published in June 2018 in the journal Scientific Reports, Granville and coauthors identify elevated levels of the enzyme Granzyme B (GzmB) in autoimmune blistering diseases. Autoimmune diseases cause an excess accumulation of immune cells in the body. Over time, these cells may begin attacking healthy cells. GzmB, which degrades proteins, is secreted during this process. 
The findings of this study show that GzmB acts like scissors, cutting away at the proteins that anchor layers of skin together between the epidermis and dermis. When these proteins are cleaved, the skin separates and forms a blister.
"GzmB is like a termite that chews away at the proteins that hold together layers of skin, and this process can stimulate immune cells to attack this area." 
"There are few treatments available for patients with autoimmune blistering conditions," notes Granville. "Topical steroids can provide some relief, but they come with significant side effects when used long-term."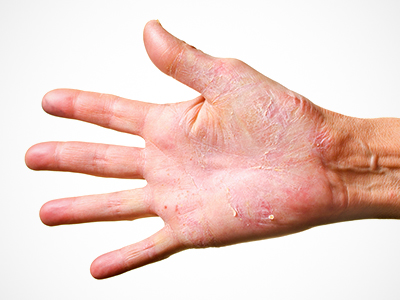 GzmB can be particularly problematic for elderly patients with bullous pemphigoid—an autoimmune blistering condition that appears to be on the rise and is potentially associated with the increased use of certain neurological medications. Patients experience hive-like lesions on their inner thighs, upper arms and torso. This painful condition is hard to treat. Patients are more prone to infection and may be more susceptible to developing cancers—such as skin cancer—due to their open wounds and ongoing skin inflammation.
In addition to autoimmune conditions, GzmB may contribute to a number of age-related, chronic skin disorders. With an aging population, the need for better treatments will continue to grow. 
Making headway on wound healing 
Granville has published extensively on the impact GzmB has on wound healing, skin inflammation and skin aging. The next step, he says, is to develop a treatment that effectively blocks the GzmB enzyme before it can cause damage to tissues. 
"We are getting a lot closer to releasing a topical GzmB-inhibiting gel onto the market. It would target some of the worst inflammatory skin conditions, while potentially avoiding many of the adverse side effects of topical steroids," says Granville. "We believe this could be a safer alternative that would prevent scarring and promote wound healing."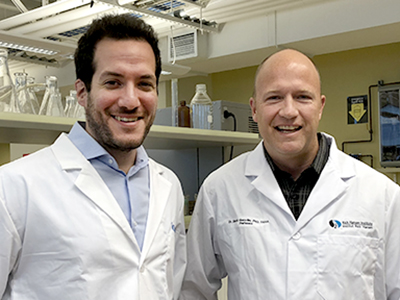 This new treatment could have a huge impact for patient care and the health care system as a whole. Patients could apply the gel at the first sign of symptoms—such as skin reddening or itchiness—stopping blistering in its tracks. This could curtail trips to the clinic, lost workplace productivity and the development of associated conditions down the road, says Granville. 
"Our work has found that GzmB not only promotes damage, but also impedes repair. If you can prevent tissue injury while facilitating healing, you can have a huge impact on patients' quality of life."