The expertise and high-tech equipment housed within MAPcore opens new doors to discovery for enhanced disease detection and prevention.
The new Molecular and Advanced Pathology Core (MAPcore) is positioned to be a powerhouse of precision and translational medicine for revolutionary health outcomes and care. Co-created by Vancouver Coastal Health Research Institute (VCHRI) scientist Dr. David Huntsman, MAPcore is home to cutting-edge equipment and expertise for advanced spatial genomics, single cell genomics, proteomics and other 'omics research.
"The core is designed specifically to give researchers access to expertise and clinical-grade molecular pathology technology to advance the field of pathology and cultivate new groundbreaking investigations and discoveries," says Huntsman.
"MAPcore could also become a hotbed for training the next generation of pathologist scientists in Canada."
Launched in spring 2021, MAPcore brings together life sciences research at the University of British Columbia (UBC) with clinical expertise at Vancouver General Hospital (VGH). Its main goal is to transfer 'omics data into novel discoveries that can be applied to clinical pathology practices, particularly related to cancers and other chronic diseases in which tissue samples are examined.
 
A specialized branch of medicine, pathology is the examination of body tissues, organs and fluids to aid in the study, detection and diagnosis of disease. 'Omics refers to biological scientific pursuits with the 'omics suffix. For example, genomics is the study of the human genome, where our genetic data is stored. Transcriptomics investigates RNA transcript molecules produced by the genome. Proteomics examines proteins in the body.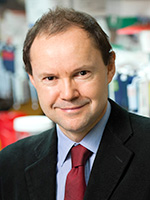 As the field of pathology evolves, new tools and methodologies have expanded the capacity of pathologists to examine tissue and fluid samples.
Correlations between a specific gene expression profile and a disease, such as breast or prostate cancer, can lead to novel approaches for disease detection and the development of precision medications to improve health outcomes. For example, genomics contributed to the discovery of several novel medications for conditions, such as high cholesterol.
To achieve its translational research goals, MAPcore will also build on industry partnerships and commercialization activities.
The MAPcore facility features around $2 million in new equipment, as well as existing and donated equipment.
High-throughput immunofluorescence staining technology completes multiplex immunohistochemistry to detect multiple biomarkers on a tissue sample, as well as cell composition and cell-cell interactions, among others. A Digital Spatial Profiler allows researchers to investigate differences within cancer types, and a Laser Capture Microdissection system identifies small changes in cells that can, for example, signal the beginning stages of cancer.
"Along with the equipment needed for molecular pathology research, MAPcore gives researchers access to one of the largest and most successful pathology departments in the world at VGH," says Huntsman. "VGH is home to experts—including MAPcore co-leads and VCHRI researchers Drs. David Schaeffer and Torsten Nielsen, who specialize in almost every possible disease—along with a large archive of pathology samples." 
"It is the perfect place for researchers to conduct their investigations."
MAPcore furthers global excellence in pathology research and innovation
MAPcore builds on the foundations established by the Genetic Pathology Evaluation Centre (GPEC), which was founded in 2001 by Nielsen, Huntsman and VCHRI researcher Dr. Blake Gilks to meet a global need for the identification of genetic features in cancers.
GPEC became a global leader in developing and validating genomic derived markers for various cancers. Using tissue microarray technology, researchers connected archival patient samples at VGH with clinical data from BC Cancer to identify clinically useful features associated with distinct cancer types.
"This research led to several hundred publications and established the standard biomarkers used today to help diagnose many breast and ovarian cancers; rare cancers; sarcomas; and other cancers," says Huntsman. "However, the tools researchers use to discover potential biomarkers have changed, and we needed to update our approach." 
"We are looking to MAPcore to have the same international impact on pathology practices and cancer diagnosis that GPEC had 20 years ago."
Huntsman adds that he and the MAPcore team are very appreciative of the support they received from VGH & UBC Hospital Foundation, the Canadian Foundation for Innovation and VCHRI.
To learn more about MAPcore, visit mapcore.med.ubc.ca.