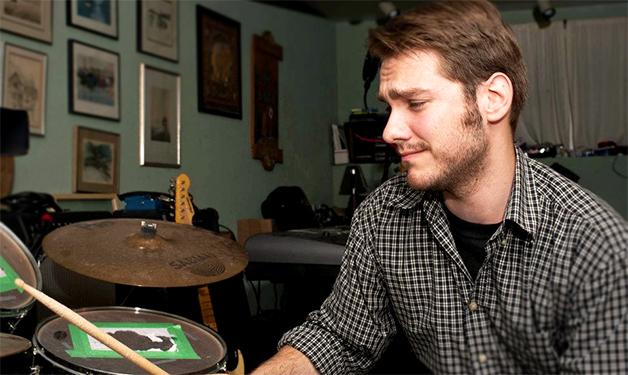 "I say yes to participate in this clinical trial because we're not going to move medical science forward without human participants."
– Caleb Gimson, East Vancouver
Twenty-eight-year-old East Vancouver resident Caleb Gimson was in the throes of the darkest depression of his life when he came across a Craigslist ad that, to him, seemed like "a sign from the heavens." The ad was seeking participants for the CAN-BIND (Canadian Biomarker Integration Network in Depression) clinical trial—a study that seeks to uncover biomarkers that will help predict a patient's response to depression treatments—and it appealed tremendously to Gimson for a number of reasons.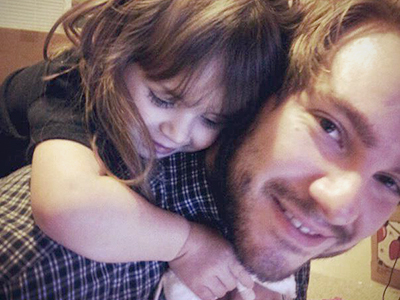 "Finding biomarkers is particularly important in psychiatry because we currently don't have any biological tests for psychiatric conditions, including depression," explains Vancouver Coastal Health Research Institute scientist Dr. Raymond Lam, one of six co-principal investigators of the CAN-BIND study.
"I thought, 'This is perfect'—I'm a big advocate for changing public perception about mental health and I also have an interest in science and research," says Gimson, who works in software technical support and quality assurance. "That the trial offered treatment options as well made it everything I wanted rolled into one package."
The CAN-BIND trial is funded by the Ontario Brain Institute, with additional funding from the Canadian Institutes of Health Research and unrestricted funding from pharmaceutical companies. Its objective is to discover biomarkers that will allow clinicians to know which depression treatments will be most effective for each individual patient.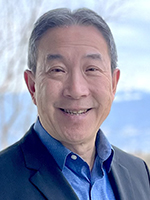 "No one in the field believes depression is one illness," explains Dr. Lam, director of the Mood Disorders Centre of Excellence at UBC Hospital and investigator at the Djavad Mowafaghian Centre for Brain Health. "It's like pneumonia—there are many different causes and knowing which one it is, such as a bacteria, or virus, etc., determines the kind of treatment that should be offered."
To date, there have been no consistent research findings of biological markers for depression treatment response. The CAN-BIND study is unique in that it looks broadly at biological test possibilities instead of examining the usual tests on their own, such as genetic markers, biological blood tests, brain scans, neuroimaging, or ectroencephalography.
"We're the first clinical trial to incorporate all of these together, which is a new way of looking at this problem," explains Dr. Lam. "We're trying to do everything at once and we will want to replicate any findings to verify that the biomarker tests are indeed real and helpful."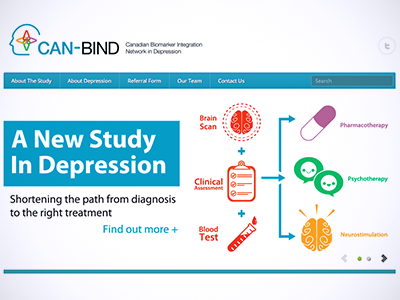 Because the study's approach looks at all different types of existing tests, research participants such as Gimson dedicate a notable amount of time to completing multiple questionnaires and doing blood tests, cognitive tests, EEGs, CTs, and MRI scans.
"I got to do all the cool science-y stuff seen on TV," says Gimson. "Having access to an MRI once in someone's life is usually a rare event and I had a number of them, which I view as an interesting privilege."
"I say yes to participate in research because we're not going to move medical science forward without human participants," says Gimson.
Gimson further describes his experience as a CAN-BIND participant as entirely positive.
"The research team told me they were my on-call medical team for the duration of my participation and they lived up to it," he says. "Throughout the study they treated me with empathy and did everything to make things easier on me."
Gimson feels very strongly about the necessity of people participating in health research.
"It's our duty as Canadian and global citizens to improve the tools that help us function as a society, especially tools like medicine. Participating in research is a great way to contribute to the development of these tools," Gimson adds. "Being a part of the process that could turn diagnosis and treatment of depression into a simple and successful process would be my ideal contribution to medical research, which hopefully, I've just done."
THIS IS ONE PATIENT'S STORY OF PARTICIPATING IN A CLINICAL TRIAL. YOUR EXPERIENCE MAY DIFFER. LEARN MORE ABOUT CLINICAL TRIALS BEFORE PARTICIPATING.